I may get commissions for purchases made through links in this post.
What Does Nespresso Yellow Light Mean On Vertuo Machines?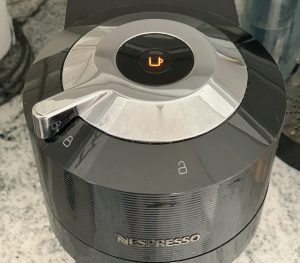 If your Nespresso Vertuo Next, Vertuo or Evoluo machine has blinking or flashing yellow light, then it needs troubleshooting. This post explains what the Nespresso yellow light errors mean and how to fix your machine so you can enjoy your cup of coffee again. The same troubleshooting steps will apply to your model whether it is made by De'Longhi or Breville.
Nespresso Vertuo Yellow Light Meaning Summary
There are seven light based error alerts for Nespresso Vertuo Next, Vertuo and Evoluo coffee machines. The number and timing of the yellow light will tell you what to do to fix your coffee and espresso maker.
| | |
| --- | --- |
| Yellow Light Pattern | Meaning |
| Flashes two times per second | Needs cleaning |
| Flashes three times per second | Needs descaling or emptying |
| Pulses (fades OFF, then ON) | Cooling down after overheating |
| Flashes twice for 1 second, then long OFF | Machine error |
| On for 1.5 seconds, OFF for 0.5 seconds | Empty water reservoir |
| Flashes 5 times in 10 seconds | Reset to factory settings |
| Flashes then white for 3 seconds | Descaling needed soon |
Nespresso Vertuo Next Yellow Light Meaning
Keep reading to see the suggested steps to fix the Vertuo yellow light alerts. You may also read the user manual for your machine.
Flashing Yellow Twice
If your Nespresso flashes yellow twice, it needs to be cleaned. To run a cleaning cycle:
Open the head and remove any used pod in the chamber. Take a damp paper towel and carefully run it around the piece that spins on the under side of the open head. Also wipe the area around where the pod sits.
Rinse out the water reservoir and then fill it with clean water.
Rinse the cup support and put a large mug or measuring cup under the coffee spout.
Empty the used pod holder. Rinse it with cold water, then put it back.
Close the head. Lock it by turning the lock to the left.
Push the button 3 times within 2 seconds to begin cleaning. The light will start flashing. Within two minutes, water will begin to come out. This will go for about five minutes as it pumps through three cycles of water.
If it keeps blinking yellow after this, try holding the button down for at least 7 seconds. If it is still there, you may want to run the descaling process before calling Nespresso support.
Flashing Yellow 3 Times
If your Nespresso Vertuo is flashing yellow 3 times, you need to descale your coffee maker. Descaling will remove mineral buildup from the water used to brew your coffee. Over time these minerals can block water flow and even have a negative impact on the taste and temperature of your coffee. Read my other post for instructions on how to descale your machine. Note you will need to buy a solution.
Pulsing Yellow Light
A pulsing yellow light means that your machine has overheated. In this case, it just needs to cool down. This can happen after a lot of use. Push the button for 3 seconds to turn the machine off. Push it again to turn on. Wait half an hour to an hour for it to cool down. If it still pulses after this, then hold the button down for at least seven seconds to see if it stops.
Yellow Light Blinking Rapidly Twice, Followed By Long Pause
There could be three instances when the Nespresso yellow light appears in this way. You may notice this during coffee prep, while descaling, emptying or cleaning or while programming a custom volume.
If this happens while you are making coffee, check that you inserted the capsule correctly and that it has no damage. Then, make sure the machine is locked. If the yellow light persists, put in a new pod, lock the brew head and press the button.
During descaling or cleaning cycles, make sure there is no pod in the chamber. The brew head also has to be locked. Press and hold the button for 3 seconds to turn the Vertuo machine off. Press it again to turn it on. If the yellow light is still there, unplug it. Wait 10 seconds before plugging it in again. Turn it on.
If the light error is appearing while you are trying to program a custom drink volume, make sure that the pod is placed correctly.
If your machine won't stop blinking, I suggest you call support. The phone number is 1-800-562-1465.
Yellow Light That Is On For 1.5 Seconds, Off For 0.5 Seconds
If your Vertuo is flashing yellow in this pattern, then your water reservoir is empty or low. Fill the water tank with fresh water and push the button to start. If your water tank is full, inspect the base of the machine where the water tank connects to make sure there is no debris interfering.
Yellow Light Blinking 5 Times In 10 Seconds
A rapidly blinking yellow means that you need to perform a reset. Open the brew head and eject the pod. Close the head and leave it unlocked. Push the button five times in three seconds. It will blink slowly five times. The reset is done.
Alternating Yellow And White Blinking Light
Once you get an alternating yellow and white light, you will only be able to use your Vertuo coffee and espresso maker a few more times before descaling is needed. See my other post on how to descale your Vertuo coffee maker. You will have to buy a descaling solution.
get our latest guides, reviews, recipes and more for your coffee machine in your inbox
Thank you for subscribing. Check your email and confirm your subscription.
Something went wrong.