I may get commissions for purchases made through links in this post.
How To Use An Ember Mug – Frequently Asked Questions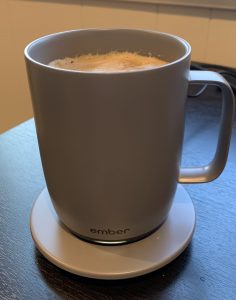 A common complaint among coffee machine owners is that their cup of joe isn't hot enough. Manufacturers of popular coffee makers like Nespresso and Keurig recommend heating up your mug in a microwave just before making your coffee. Some people will say that is a hassle. If you are one of them, then the Ember mug may just be the solution to your lukewarm coffee woes. Keep reading to learn how an Ember mug works and how to use one.
How Does An Ember Mug Work?
The Ember mug is powered by advanced dual lithium-ion batteries. With just the press of a button, it can warm your beverage to anywhere from 120 to 145 degrees Fahrenheit. Just choose your preferred temperature in the Ember app once you've paired it with your phone. Once your drink reaches the desired temperature, heaters in the mug will be triggered by precision sensors as needed to regulate it for up to 80 or 90 minutes.
There are two mug sizes you can choose from: 10 oz and 14 oz. If you have a Nespresso Vertuo machine, I would suggest you get the 14 oz as it will more comfortably hold the full amount of the coffee pods.
The mug is made of stainless steel and painted with a food grade ceramic-reinforced coating. It is best to use a plastic or wooden spoon if you need to stir your drink; metal may scratch the coating. This is an electronic device so NEVER put this mug in the microwave.
How To Use An Ember Mug?
What Do The LED Color Lights Mean?
Solid Red – low battery, needs charging to hold temperature
Pulsing Red – charging
Solid Green – fully charged

Pulsing White – beverage is still warming to the target temperature

Solid White – beverage has reached the target temperature
Solid Blue – firmware updating
Pulsing Blue – pairing with a phone
Blinking Yellow Green – resetting
Turn Off Ember Mug
Press and hold the power button for three seconds. The LED will dim to an off state. When you pick up the mug, no white light should turn on. If it does, try to power off again. To turn your mug on again, just press the power button located at the bottom.
Pair With Phone
Pairing your mug with your phone is not required, but is needed if you want to be able to do certain things. For example, you need to pair in order to customize the temperature from the default 135 degrees Fahrenheit, view battery life and update the firmware. Follow these steps to pair:
Download the Ember app from the App Store or Google Play Store.
Open the app and click "Let's Get Started." Choose the product you are pairing and hit "Next."
Press and hold the power button for six to eight seconds. A pulsing blue light will appear. Click "Next."
Your phone will display "Searching" and then "Found" if pairing is successful.
Press "Connect and Pair" to finish.
Charge Ember Mug
Plug the charging base into the wall and place the mug on top. It takes approximately two hours to charge a mug with a fully empty battery. The LED will turn green when charging is complete. It is completely fine to leave the mug on the base after it has finished charging.
All Ember charging coasters are interchangeable. That means you can charge the Gen 1 and Gen 2 Ceramic Mugs and Travel Mugs on any coaster you have.
Wash and Clean Ember Mug
The only way to wash your mug is by hand. It is not dishwasher safe. Use a soft sponge or brush and warm, soapy water to clean your mug after every use. Never use metal or an abrasive cleaner to wash your mug; those will damage the inner coating.
Reset
To reset your mug, press the power button for eight to ten seconds. It will start to blink a yellow green color to indicate that reseting is in process.
get our latest guides, reviews, recipes and more for your coffee machine in your inbox
Thank you for subscribing. Check your email and confirm your subscription.
Something went wrong.