I may get commissions for purchases made through links in this post.
How To Exit Nespresso Descaling Mode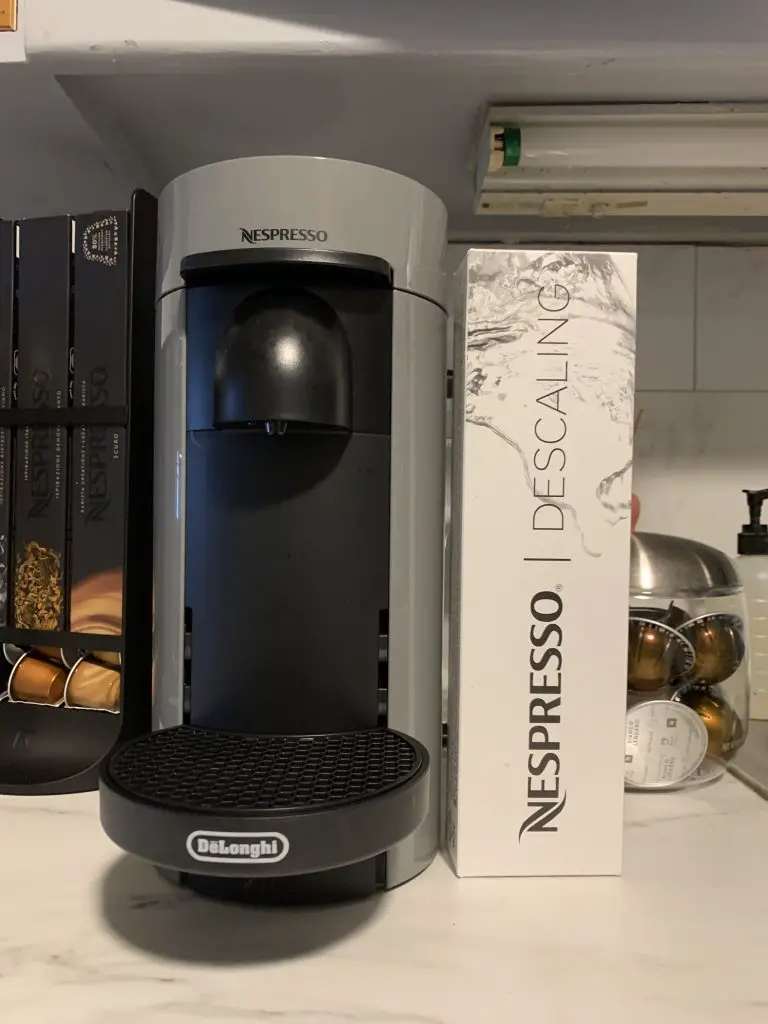 Regularly descaling your Nespresso machine is essential to helping your machine operate at its best. if you are here, you likely know that already because you've attempted to descale your coffee maker. Unfortunately, good things are not always easy to do. Lots of people find it tricky to figure out how to exit Nespresso descaling mode. Is your Nespresso stuck in descaling mode? Most of the time there are just some buttons you have to press to exit. In other cases where the machine should have exited automatically, it is possible you made an error along the way. Keep reading to learn more.
How To Exit Descaling Mode
How to exit descaling mode will depend on which Nespresso machine you have. Most models will exit descale mode automatically once the rinse cycle is complete. However, this will only work if you've correctly followed all of the steps in the descale instructions for your Vertuo or Original machine. More on that in the next section of this article.
Auto Exit Descaling
Manual Exit Descaling
Vertuo Next
Gran Lattissima
Lattissima Pro
Lattissima One
Lattissima Touch
Creatista Pro
Creatista Plus
Creatista Uno
Essenza Plus
Vertuo Plus
Vertuo
Evoluo
Essenza Mini
CitiZ
Pixie
Inissia
How To Exit Descale Mode for Vertuo Plus, Vertuo and Evoluo
For these three Vertuoline machines, you need to manually exit descaling. On the Vertuo Plus, hold the button and the level down together for three seconds, then release. When you let go, the light should be a solid green. It may look yellow to some people.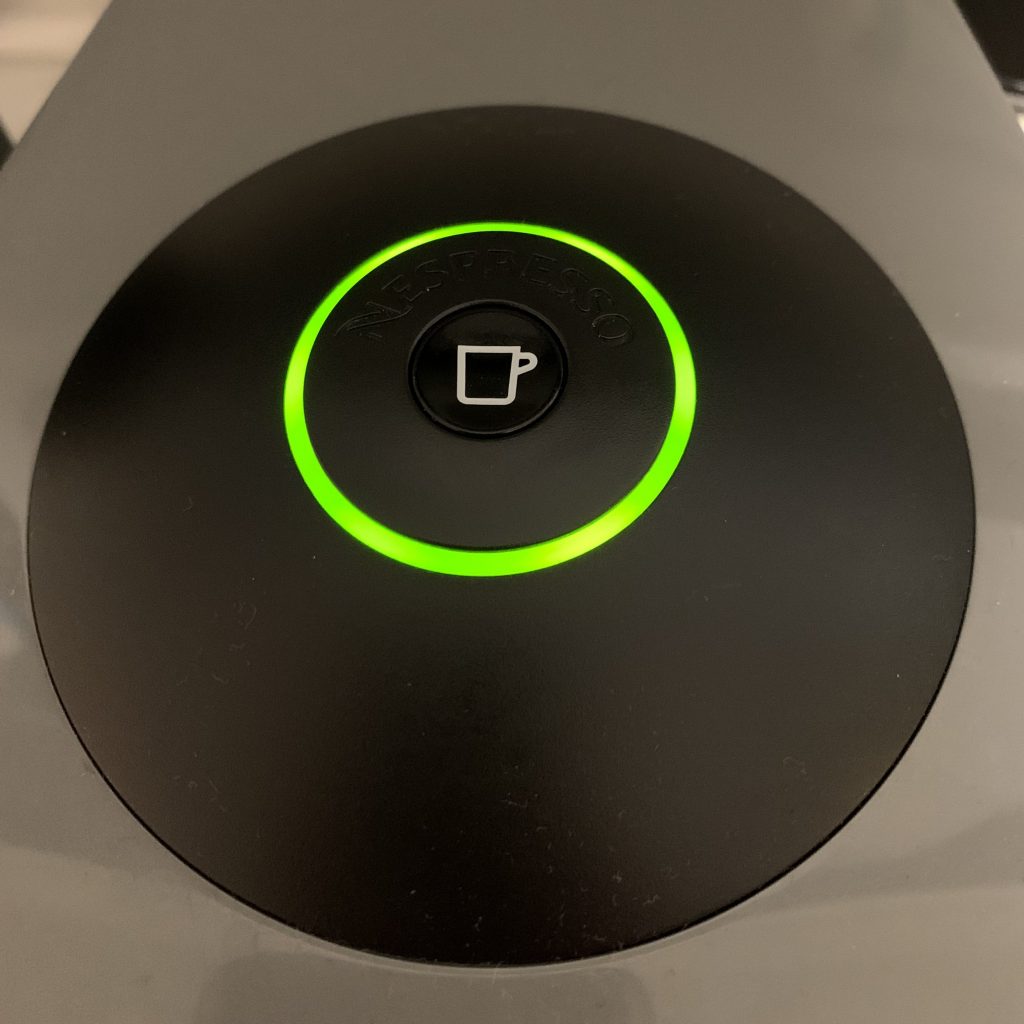 For the Vertuo and Evoluo models, once the rinse cycle is complete you need to press and hold the button for seven seconds. The light will then turn steady. Let the coffee maker sit for 10 minutes before using it.
Exit Descaling For Essenza Mini, CitiZ, Pixie and Inissia
For these Nespresso Original line models, you have to hold the espresso and lungo buttons to exit descale mode. If you have the Essenza Mini, then hold them down for five seconds. If you have the CitiZ, Inissia or Pixie, then hold them down for three seconds. When you release the buttons, the lights should eventually turn steady. It could take up to 25 seconds on some models.
Top Reasons Why Your Nespresso Is Stuck In Descaling Mode
If the descale alert light on your Nespresso machine won't turn off, then your coffee maker is stuck in descaling mode. Here are the most common reasons why that happens and what you can do to fix it.
#1 The Water Tank Did Not Completely Empty During the Descale or Rinse Cycle
If you overfill the water tank or if you interrupt the process and do not let the tank completely empty during either the descale or rinse cycle, your Nespresso machine won't reset the descale alert light. It is very important that you let the tank completely empty during each of these cycles.
If your tank completely emptied during descale but did not during rinse, you'll have to go through the whole process again. However, instead of adding more descaling solution to your machine, you can just use a reservoir full of water only. This will allow you to run through all of the steps in the descale process without wasting a packet of solution. Your Nespresso machine won't be able to tell the difference and if you complete it correctly this time, the alert will turn off and it will exit descaling mode.
#2 Too Much Time Passed In Between Steps In The Descaling Process
Not advancing to the next step in the descaling process is a common reason why Nespresso Vertuo machines seem to get stuck in descale mode. After putting the machine in descale mode by holding the button for seven seconds, the Vertuo Next, Vertuo and Evoluo only give you 45 seconds to turn the level to locked, turn it back to unlocked and press the button again for 7 seconds. If you don't complete it in this time, the coffee maker will exit descale mode and the alert light will come on again. You'll need to enter descale mode and try again.
If you have a Vertuo Plus, you'll get more time. Once the orange light turns on after you've entered descale mode, you need to press the lever down just one time in the next two minutes to start the actual descale process. if you don't, the machine will exit the cleaning mode and the half red and green light or red and yellow light will appear again.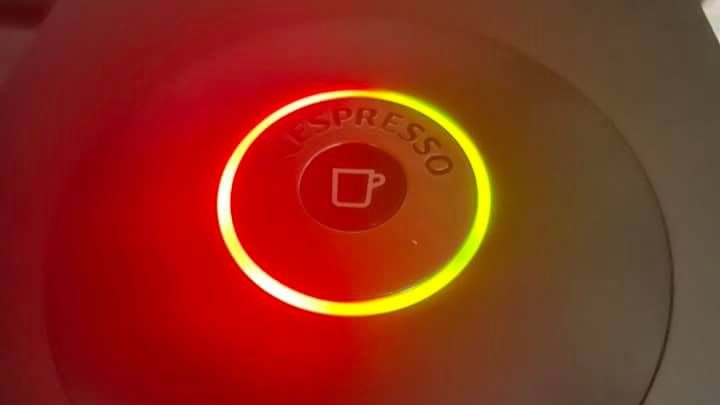 Other Tips To Try If Your Nespresso Is Stuck In Descaling Mode
It is always best to try to complete the descaling cycle correctly, paying attention to the top two common mistakes made above. Remember, descaling is an important cleaning step that removes mineral deposits and helps your Nespresso work like new. This is especially important if you live in an area with hard water. However, if after trying again your Nespresso still won't exit descaling mode, there is something else you can try. It is called a factory reset. The steps on how to reset will vary by model; click the link in the previous sentence for my related content on this topic.
get our latest guides, reviews, recipes and more for your coffee machine in your inbox
Thank you for subscribing. Check your email and confirm your subscription.
Something went wrong.