I may get commissions for purchases made through links in this post.
The Best Smallest Nespresso Machine You Can Buy In 2023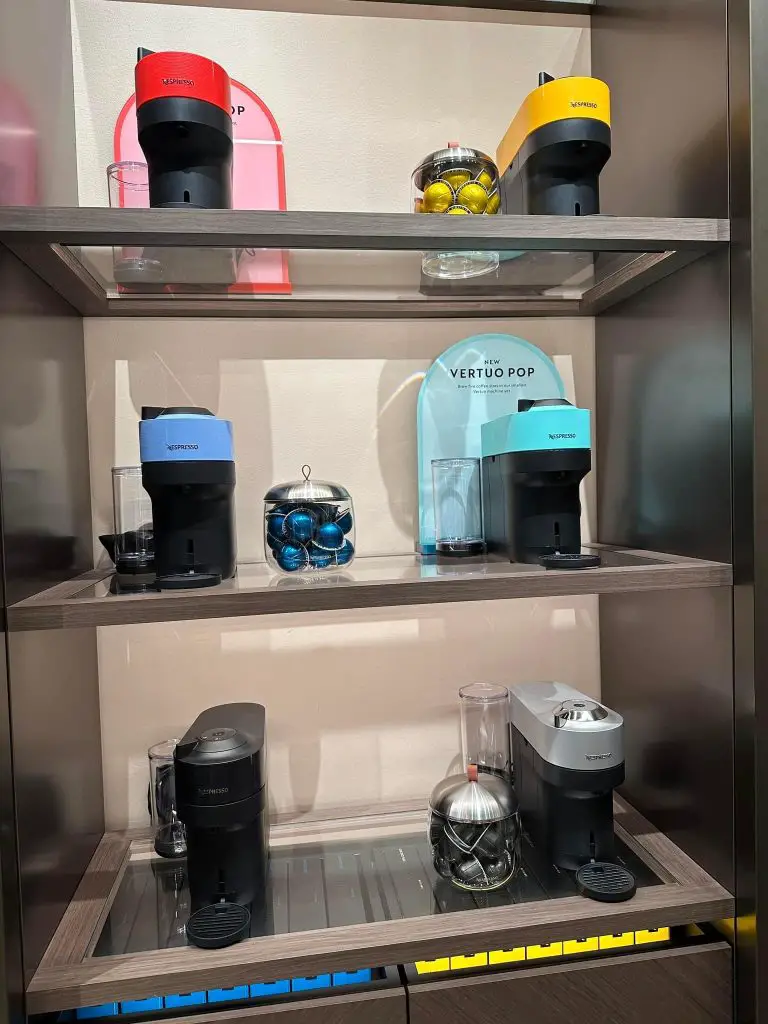 Small Nespresso machines area great option for people who want the convenience of a pod coffee maker but are limited on counter space. They are also a great option for people who want to travel with their Nespresso. What is the smallest Nespresso machine available to buy in 2023? Keep reading to learn more. First though, a reminder about the two different Nespresso product lines. They can make different types of beverages which is important to understand.
Understanding Nespresso Original line vs Vertuoline Models
To determine which type of small Nespresso machine you should buy, the first thing you have to figure out is what kind of coffee you want to drink. That's because there are two different lines of Nespresso machines – the Original line and the Vertuo line. They make different types and sizes of coffee.
Nespresso Original line models brew only espresso pods. Espresso is a highly concentrated shot of coffee. It is typically served in small shots. You can drink an espresso black when you need a quick boost of energy. However, espresso pours are also used to make milk-based coffee drinks like lattes, cappuccinos, macchiatos and flat whites.
On the other hand, Nespresso Vertuo line models can make a wider range of beverages. There are a handful of Vertuo espresso and double espresso pods. Vertuo machines can also make a traditional American 8 ounce or 12 ounce cup of coffee. You should pick from the Vertuo line if you want the option of having regular coffee.
What Are The Smallest Nespresso Machine Models?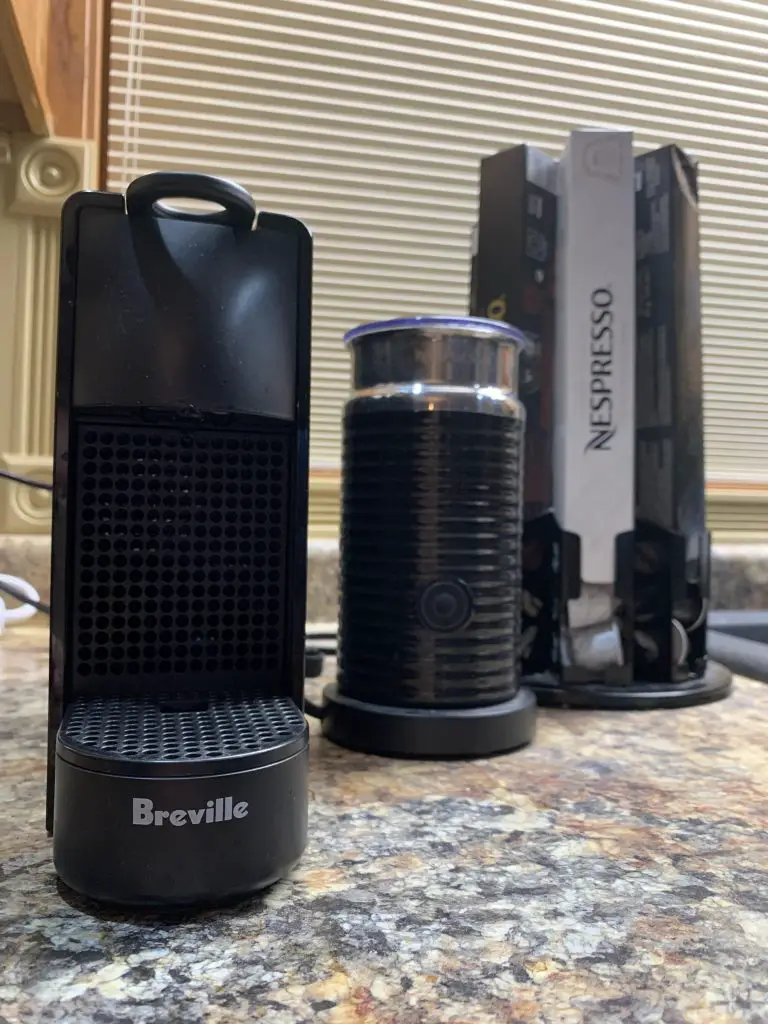 The smallest Nespresso machine is the Essenza Mini, part of the Original line. It measures 4.3 inches wide by 8 inches deep and 12.8 inches tall. This is about 4 to 5 inches less deep than other Original Nespresso machine options.
Remember though that Original Nespresso models like the Essenza Mini only brew espresso and lungo pods. If you are looking for a bigger cup of regular coffee, the smallest Vertuo machine is the new Vertuo Pop. It measures 8.6 inches wide by 14 inches deep and 10.4 inches tall. That makes it quite a bit bigger than the Essenza Mini. However, if you want regular coffee, you'll want this machine.
| | | |
| --- | --- | --- |
| | Essenza Mini | Vertuo Pop Deluxe |
| Dimensions (WxDxH) | 4.3 x 8.0 x 12.8 in | 8.6 x 14 x 10.4 in. |
| Weight | 5 lbs | 8.1 lbs |
Other Small Nespresso Machine Options
There are a few other Original line models that are still fairly compact – the Inissia, Pixie or Essenza Plus. They might actually be a better option for you vs the Essenza Mini if you have limited height on your counter. They are almost 3 to 4 inches shorter. The most notable differences are the dimensions and the design. Other than that there are very few differences between the Essenza Mini and the Inissia and between the Essenza Mini and the Pixie. They brew the same pods in exactly the same way.
| | | | | |
| --- | --- | --- | --- | --- |
| | Essenza Mini | Essenza Plus | Inissia | Pixie |
| Dimensions (WxDxH) | 4.3 x 8.0 x 12.8 in | 4.6 x 15.7 x 10.1 in | 4.6 in x 12.6 in x 9.1 in | 4.4 x 12.8 x 9.3 in |
| Weight | 5 lbs | 7.9 lbs | 5.3 lbs | 6.6 lbs |
The Essenza Plus has a few advantages over the Essenza Mini. It has a pre-programmed option for brewing an americano. That said, I think making an americano is actually very easy with any Original Nespresso machine. It also has bluetooth connectivity.
Pros and Cons of The Smallest Nespresso Machine Models
The biggest advantage of the smallest Nespresso machines is that they are easier to fit into tight counter spaces. They are also easier to pack for travel.
There are some disadvantages to consider though. Compared to larger models, the main disadvantages of a small Nespresso machine are:
Requires separate milk frother accessory for lattes and cappuccinos
You have to empty used capsule container more frequently
You have to refill water tank more often
The other small Original line models besides the Essenza Mini have a larger water tank and can hold more used pods.
| | | | | |
| --- | --- | --- | --- | --- |
| | Essenza Mini | Essenza Plus | Inissia | Pixie |
| Water Tank Size | 20.3 fl oz | 33.8 fl oz | 23.8 fl oz | 24 fl oz |
| Used Capsule Capacity | 6 pods | 11 pods | 11 pods | 11 pods |
Breville vs De'Longhi Nespresso Machines
As you are browsing stores, you will likely see two of each of the models listed above. One will be made by De'Longhi and the other by Breville. Both are Nespresso partners that make the machines. The differences between De'Longhi and Breville are mostly minor design details. The "guts" inside the units are the same and designed by Nespresso. I suggest you pick the model you want and then buy whichever one is cheaper.
get our latest guides, reviews, recipes and more for your coffee machine in your inbox
Thank you for subscribing. Check your email and confirm your subscription.
Something went wrong.