I may get commissions for purchases made through links in this post.
DeLonghi vs Breville Nespresso: Which Is Best To Buy? (2023)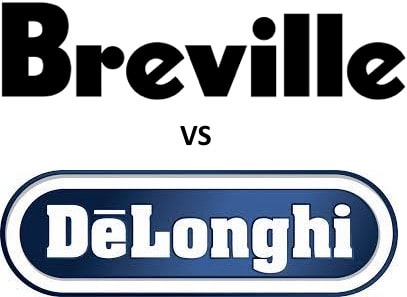 When you are shopping for Nespresso machines, you may notice that there are a couple versions of each model that have the same name and the same look. In most cases there is one model made by Breville and one made by De'Longhi. Should you get the Delonghi vs Breville Nespresso? What's the difference? In most cases, not much. Keep reading to learn more.
Is Nespresso The Same As Delonghi or Breville?
Both Delonghi and Breville are Nespresso manufacturing partners and world leaders in kitchen appliances. While Nespresso does not manufacturer its own machines, it does create, design and engineer every model. That means the core functionality and shot of espresso or cup of coffee will be the same for each model no matter whether it is made by Breville or De'Longhi comes from. In some cases there may be small changes to the design, like a more or less rounded top. Keep reading to learn more.
The Latest Nespresso Models by Manufacturer
Both De'Longhi and Breville make two different Nespresso machine product lines. The line that is right for you will depend on the type of coffee you like to drink.
A Nespresso Vertuoline coffee makers can make both espresso shots and a traditional American 8 to 14 ounce cup of regular coffee. The three newest models (Vertuo Next, Vertuo Plus and Vertuo) are made by both Breville and De'Longhi. The Evoluo model made by De'Longhi is now discontinued, but it was very popular and you may still be able to find it some places.
On the other hand, the Nespresso Original line brews only espresso pods. Espresso is a highly concentrated coffee that is typically served in small shots. Espresso pours are also used to make a single serve milk based drink like a latte, cappuccino, and flat white.
Delonghi vs Breville Nespresso Vertuo
The Vertuo Next, Vertuo Pop and Vertuo Creatista are the newest Vertuoline models. They are the only model that can brew up to 18 oz of pour over coffee and 12 oz Alto XL coffee pods. Other than color options, there's no real difference between the De'Longhi and Breville models. Unfortunately, the Next model is known to have significant reliability issues compared to other Vertuoline coffee makers.
The Nespresso VertuoPlus features a water tank with adjustable placement so you can optimize your kitchen counter space. It has a motorized open and close and will auto eject the used coffee pods into the capsule drawer. The difference between the Breville and De'Longhi is the top design. Machines by Breville have a more rounded top. We suggest choosing the one with the best price.
The Vertuo model was released in 2014. It has a smaller footprint than the VertuoPlus, but the water tank does not move. However, it has the fastest heat up time and largest used capsule container for less frequent clean up. The difference between the Breville and De'Longhi is the top design. Unless you have a strong design preference, we recommend choosing the one with the best price.
The Evoluo De'Longhi Nespresso machines have the largest water tank and used capsule container of any Vertuoline model. That makes it a great choice for people who want to spend less time cleaning. It also has more heating power than the Vertuo model. While it is a discontinued model, the Evoluo is still a Nespresso fan favorite.
If you want to learn more about some of these Vertuo models, we have a full of review of how the Vertuo and VertuoPlus compare.
Delonghi vs Breville Nespresso Original
If you are looking for an Original Nespresso machine with built in milk frothing capabilities, there is one model by Breville and three models from De'Longhi.
Breville Model With Built-In Milk Frothing
Breville's Creatista Plus makes cappuccinos, lattes, latte macchiatos and flat whites, in addition to a simple espresso, ristretto or lungo. Just use the LCD screen on top of the machine to select your drink and then follow the simple 2-3 steps.
The Creatista Plus has a built-in steam pipe and comes with a stainless steel milk jug which are used to easily froth milk. The milk temperatures and froth settings are all customizable. The Creatista Plus makes it easy to for even a beginner to make coffee shop quality drinks at home. The steam wand cleans itself into the drip tray after every use and the LCD screen displays alerts when other cleaning is needed. This model has replaced the original Creatista Uno.
Breville recently launched an even more advanced model, the Creatista Pro. The Creatista Pro is similar to the Creatista Plus, but has some advanced features like a full color touch screen. It comes at a premium price, but if you want to most luxurious machine, it is worth considering.
An even newer model from Breville is the Vertuo Creatista. This is the first ever Vertuoline model with milk frothing. It's a perfect option for those who want to easily make a latte or cappuccino, but also enjoy a regular cup of coffee from time to time.
De'Longhi Models With Built-In Milk Frother
The De'Longhi model most similar to the Creatista Plus is the Gran Lattissima. It makes cappuccinos, lattes, latte macchiatos and flat whites, as well as espresso, ristretto or lungo with just one touch. The premium design of the Gran Lattissima features matte and high-gloss finishes with stainless steel accents.
De'Longhi's Lattissima Pro has a sleek brushed aluminum design. With just the push of a button, you can use it to prepare a ristretto, an espresso, a lungo, a cappuccino or a latte macchiato. You can also use it to warm milk froth or prepare hot water when you want tea. When making a cappuccino or a latte macchiato, the machine will prepare the espresso and milk in the correct order and the milk with be perfectly frothed every time. The large milk container is removable and can be stored in the fridge.
The Lattissima One by De'Longhi can make three milky drinks. Just fill the milk jug, insert a pod, press the button and you can enjoy a cappuccino, a espresso macchiato or a latte macchiato. It heats up in just under 35 seconds. The Lattissima One is compact with a modern look in colors like black and white. It is mostly plastic.
Models Without Built-In Milk Frothing
The Nespresso Essenza Mini is the newest and most compact model. It can make a 1.35 oz espresso or a 5 oz lungo. De'Longhi and Breville have very distinct designs, but the functionality is the same. See my in-depth review of the Essenza Mini.
The Pixie is one of the most compact and fastest Nespresso single serve espresso machines. It heats up in just 25 seconds. Design is the only difference between the Breville and De'Longhi Pixie. The De'Longhi Pixie has a smooth side panel. In contrast, the Breville Pixie is grated.
The Inissia is a discontinued model. However, you can still find it for sales on some sites. It works like the Pixie and the Essenza Mini. The biggest difference is the design. You'll find a few more colors available with the Breville model. Otherwise, there is no difference between the Breville and De'Longhi Inissia models.
get our latest guides, reviews, recipes and more for your coffee machine in your inbox
Thank you for subscribing. Check your email and confirm your subscription.
Something went wrong.