I may get commissions for purchases made through links in this post.
Nespresso Vertuo Next vs Vertuo Plus: Key Differences in Features and Reliability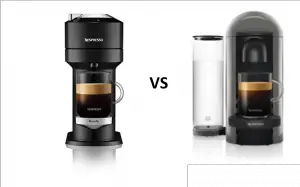 In 2014, Nespresso released a new range of coffee machines called the Vertuoline. Unlike the earlier series (now called the Original line), the Vertuoline machines could make both espresso as well as a traditional 8 oz American cup of coffee. The two latest models are the Vertuo Plus (released in 2017) and the Vertuo Next (updated release in 2020). If you are trying to decide between the Nespresso Vertuo Next vs Vertuo Plus, we have have all of the information you need to be make the best decision in our in-depth review below.
Nespresso Vertuo Next vs Vertuo Plus Review Summary
Many people assume that the Next must be the best Vertuo coffee maker since it is the newest model. They would be very wrong. While the Vertuo Next has some clear differentiators such as the ability to make 18 oz pour over coffee and bluetooth functionality, there are serious technical flaws with this model. As a result, owners have more issues with the Next than any other Nespresso model. These issues include coffee or water leaks from the machine, coffee that tastes like plastic, or a range of orange blinking light problem indicators that Nespresso Customer Support can't even help users fix. There's even a mysterious purple light that isn't mentioned in the user manual but usually appears a couple days before the machine dies.
For those who are fortunate enough to have issues while their Next is still under its one year warranty, Nespresso has been replacing them. Usually they send another Next, but many people report having been successful in begging Customer Support to send them a Vertuo or Evoluo instead. There are rumors that Nespresso may have discontinued the Next model as of March 2022 given all of these troubles. If you buy a Next, be sure to register it with Nespresso ASAP so that any issues will be covered under your one year warranty. You'll save yourself a lot of trouble by just buying a Nespresso Vertuo Plus to begin with. I got my Vertuo Plus in December 2021 and have been very happy with it since then.
Coffee And Espresso Selection And Sizes
Both the Vertuo Next and Vertuo Plus coffee machines brew a variety of pod sizes using centrifusion technology. However, in addition to this list, there are 2 pod sizes that only work with the Vertuo Next. Those are the 18 oz pour over carafe pods and the new 12 oz Alto extra large coffee pods that were released in March 2023.
1.35 oz espresso
2.7 oz double espresso
5 oz Gran Lungo
8 oz coffee
Unlike the Original line, there are barcodes on the vertuoline capsule to customize the brewing pressure, temperature and duration. That means you'll get the perfect coffee drink every time. The downside is that because Nespresso controls the barcodes, there are fewer non-Nespresso branded coffee capsules on the market. See our review of the most popular pods.
Note that neither the Next nor Plus models have milk frothing built-in. If you want to make a latte or cappuccino, you can buy an Aeroccino milk frother separately or in a bundle with your machine.
Power
You might get a hotter cup of coffee from the Next since it has a higher power rating than the Vertuo Plus. However, this heat could also be related to some of the trouble that users have with the coffee machine. Some users suspect that melting internal pieces cause machine defects.
| | | |
| --- | --- | --- |
| | Vertuo Next | Vertuo Plus |
| Heating Power Rating | 1500 watts | 1300 watts |
Machine Size
The Vertuo Next is the smallest of all the Vertuoline coffee makers. The Vertuo Plus has a moveable water reservoir. You can move it behind the machine, to the side or at a 45 degree angle. The water tank on the next is fixed at the back of the coffee maker.
| | | |
| --- | --- | --- |
| | Vertuo Next | Vertuo Plus |
| Dimensions (WxDxH) | 5.5 x 16.8 x 12.4 in | 8.7 x 12.7 x 12.8 in |
| Cable Length | 29 in | 29.13 in |
| Weight | 8.8 lbs | 10.1 lbs |
| Adjustable Water Tank Position | No | Yes |
Lid Functionality
Only the Vertuo Plus has the motorized lid that will open and close by itself with the gentle push on the lever. The lid on the Vertuo Next has to be opened and closed manually. The Next therefore requires a lit bit of effort and hand strain because you need to turn a lever to lock and unlock the lid.
Speed
The difference in time it takes to heat each machine is minimal, but if you often find yourself in a rush in the morning, then every second may count! The Vertuo Next is the slower machine. It heats up in 25 seconds. The Vertuo Plus heats up in 20 seconds, just a little faster.
Care And Maintenance
The most frequent caring for my Nespresso machine that I do a few times a week involves cleaning and refilling the water reservoir and emptying the used capsule container. There is not much of a difference here between the models. The Vertuo Plus water tank is just slightly larger than the Next. Both will auto eject used capsules into the storage container. Both models hold 10 used pods.
| | | |
| --- | --- | --- |
| | Vertuo Next | Vertuo Plus |
| Water Tank Capacity | 37 ounces | 40 ounces |
| Used Capsule Container Capacity | 10 large capsules | 10 large capsules |
Both models will require more time intensive cleaning (called descaling) every 3 months or so. This will remove mineral buildup from water that can impact machine performance. These models come with an alert light so you'll know when it is time to descale. On the VertuoPlus it will be a solid half red and half green light. On the Vertuo Next, it will be an orange light that blinks 3 times. The Vertuo Next has bluetooth functionality that allows you to connect the machine to the Nespresso app. When the connection works, it can help you understand what the problem is with your machine and what steps you need to take.
Nespresso Vertuo Plus or Vertuo Plus Deluxe
There are actually two versions of the Vertuo Plus. In addition to the standard model, there is the Nespresso Vertuo Plus Deluxe. This is great choice if you want a coffee maker that has it all: chrome accents, faster startup speed, less frequent maintenance, and an adjustable water tank.
| | | |
| --- | --- | --- |
| | Vertuo Plus Deluxe | Vertuo Plus |
| Water Tank Capacity | 60 ounces | 40 ounces |
| Used Capsule Container Capacity | 13 large capsules | 10 large capsules |
| Heat Up Time | 15 seconds | 20 seconds |
Nespresso Vertuo Breville or DeLonghi
Nespresso designs all of its machines, but it does not manufacture them. It outsources that to its world-wide partners Breville and De'Longhi. Both are leaders in making high-quality kitchen appliances. The differences between Breville and De'Longhi Vertuo Plus and Next machines are mostly slight variations in design (both shape and color). Unless you have a really strong preference, I would recommend buying whichever brand is offering the lowest price on the model you want.
Other Vertuo Models
As you are doing your research on the Nespresso Vertuo Next vs Vertuo Plus, you will probably come across two older models. The Vertuo is the original and oldest Vertuoline model model released in 2014. The Evoluo was the second model released in this line. It came out in 2015. Both models are similar and owners find them both to be reliable (especially compared to the Next!).
Vertuo
The Vertuo is the fastest Vertuoline machine. It heats up in just 15 seconds. It holds more used capsules than the Plus model. However, it is a little more difficult to open and close because it has the lid with a lock that needs to be turned. If you want to learn more, see my post on how the Vertuo compares to the Vertuo Plus.
Evoluo
The Evoluo has the largest water tank and used capsule container of any Vertuo line. That makes it a great choice for people who want to spend less time cleaning. It also has more heating power than the Vertuo Plus. If you want to learn more, see my post on how the Evoluo compares to other Vertuoline models.
If you are still on the fence about buying a Nespresso machine, you can read more about why I think a Nespresso is worth it or learn more about the other Nespresso models out there.
get our latest guides, reviews, recipes and more for your coffee machine in your inbox
Thank you for subscribing. Check your email and confirm your subscription.
Something went wrong.