I may get commissions for purchases made through links in this post.
Nespresso Essenza Mini Review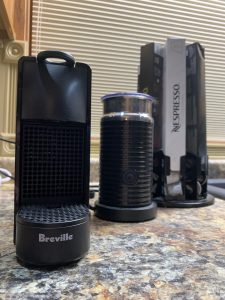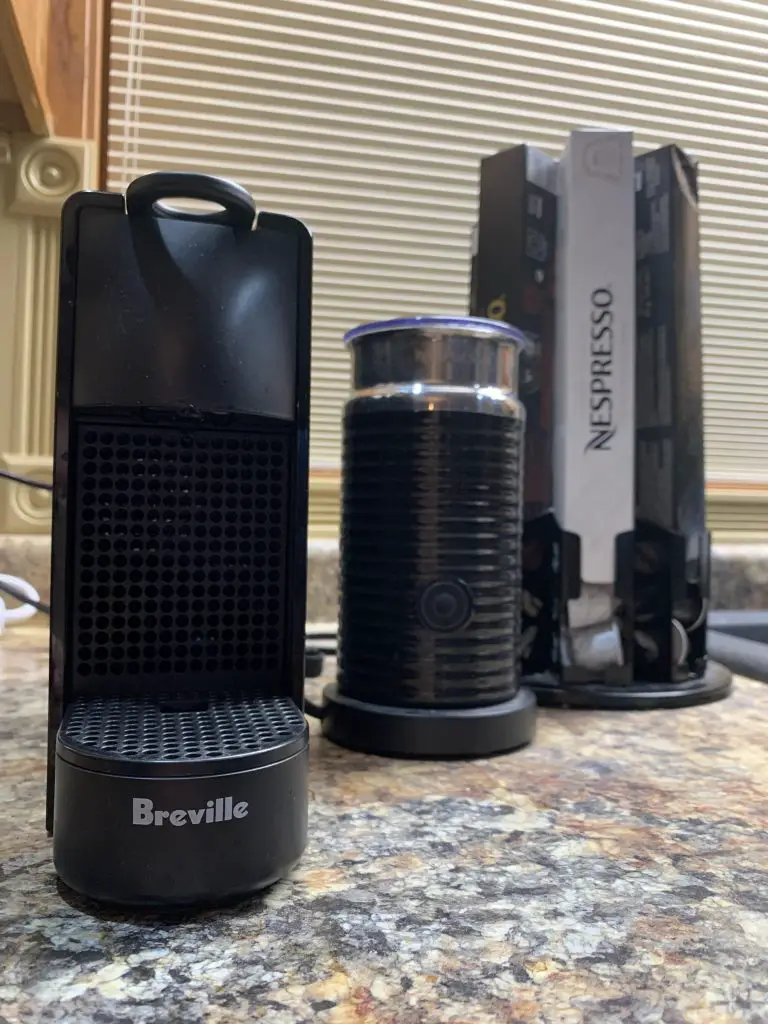 I get to use the Nespresso Essenza Mini when I travel to visit my in-laws. While it may not have all of the bells and whistles of my Nespresso machine at home (the Creatista Plus), the Essenza Mini is a small but mighty machine that makes it super easy to make high quality espresso with the push of a button. Keep reading for my full review.
Nespresso Essenza Mini Complete Review
Coffee Preparation Options
The Essenza Mini is part of Nespresso's OriginalLine. These espresso machines only brew a highly concentrated shot of coffee that is used in popular drinks such as lattes and cappuccinos. You won't be able to make a regular 8 oz American cup of coffee with this machine. To have the option of preparing both espresso and regular coffee, you would have to get a VertuoLine machine.
There are just two buttons on this model. One brews a 1.35 oz espresso shot, while the other makes a 3.7 oz lungo.
Espresso
Pressing the espresso button will get you the most concentrated shot of coffee that the Essenza Mini can make. This can be enjoyed black, or you can use it to make a latte or cappuccino. More on how to do that below.
Lungo
Lungo means "long" in Italian. When you select the Lungo option, the coffee is extracted over a longer period of time. Because more water is used, there will be more coffee in your cup and taste will be milder vs an espresso shot. Lungos should be enjoyed black or with a splash of milk. They don't work well in lattes and cappuccinos because they are more watered down.
If you want to make a lungo, you should only use pods that have "Lungo" in the name or show both espresso and lungo as size options on the sleeve.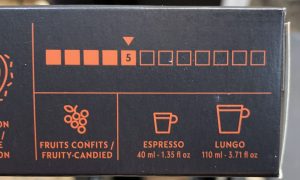 Serving Size
One slight inconvenience with the Nespresso OriginalLine is that all pods are single serve. If I am preparing a drink to take on the road, I like to make it a double so I just brew two pods. Never use a single pod more than once! If you do, your coffee will taste burnt or bitter.
Espresso Pod Flavors
If you are new to Nespresso pods, you'll have plenty to choose from to find your favorites. There is a range of caffeine levels, intensity levels and flavors, like caramel and vanilla. These pods are the ones I use most often. If you like lattes, see my picks for the best pods for lattes.
You'll also be able to find OriginalLine pods from third party brands. The only official partner is Starbucks. I've used the Starbucks pods and enjoyed them, but they are slightly more expensive than pods from Nespresso. You can also find pods made by Peet's Coffee, Williams-Sonoma, Cafe Bustelo and more. In some cases these may be less expensive than buying the official Nespresso capsules. This is a big advantage over a Vertuo machine – you won't find less expensive compatible pods for Vertuo because that design is under patent until 2030.
Milk Preparation with the Aeroccino 3
The Essenza Mini does not have any built in milk frothing capabilities. However, if you want to make lattes and cappuccinos, you can buy the Nespresso Aeroccino 3 or 4 accessory to use with your machine. You may be able to find a value bundle that will include this espresso maker plus the Aeroccino 3 frother. The Aeroccino produces the most cloud-like frothed milk for truly delightful cappuccinos.
To get the best results, you will want to use whole milk. This is true of just about all milk frothers, especially if you want to do latte art. I'm not a big fan of whole milk, so I've been using 2% and it works pretty well. Non-dairy milks generally don't work as well if you are looking for textured milk froth or quality micro foam.
Specs
Heat up time: 30 seconds
Pressure: 19 bar high pressure pump
Weight: 2.3 lbs
Dimensions: 4.3″ wide x 8″ deep x 12.8″ tall
Warranty: 1 year
Energy saving: auto off after 9 minutes
Used capsule container capacity: 6
Water tank capacity: 20.3 oz
Power rating: 1255 watts
Price & Value
The Essenza Mini is one of the most affordable Original machines on the market. The suggested retail price is around $169. The bundle with the Aeroccino 3 milk frother has a suggested price of $219 (a $50 savings vs buying both separately). However, you may be able to find it on sale from time to time on Amazon, Bed Bath and Beyond and other retailers.
If the price tag is a sticker shock, a better way to look at it is the daily cost of using the Essenza Mini to make coffee at home vs. what you are spending at coffee shops today. Conservatively assume you will have the machine a year, though it will likely last much longer. That puts the total daily cost of making a coffee at $1.65. That is much less than you would pay for a tall latte at Starbucks. If you regularly buy fancy coffees, I believe you will save money in the end by buying this machine.
| | |
| --- | --- |
| | Cost |
| Bundle with Aeroccino ($219 / 365 days) | $0.60 |
| Espresso Pod | $0.75 |
| Milk And Other Add-ins | $0.30 |
| Total Per Drink | $1.65 |
Cleaning & Care
I recommend you do two things to take care of your new Essenza Mini every day:
Empty the used pod immediately after use. This helps prevent coffee grinds build up which can make your next cup of coffee taste bitter or burnt.
Run a water only espresso or lungo cycle with no pod in the holder. This also helps remove any coffee grind buildup.
Because this model's used capsule container is so small, you will probably need to empty it at least once or twice a week depending on how much coffee you drink.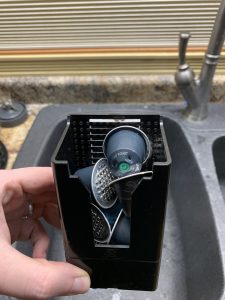 Every three months or so, you will need to descale your machine. This cleaning process removes mineral buildup from the water used to brew the espresso. If ignored, these minerals can have a negative impact on the taste and temperature of your coffee.
If you have hard water, meaning it contains more minerals, you should descale more often. The machine includes water testing strips in every box. Follow the steps in the user manual to test your water and set the unit to the correct water hardness level.
Breville vs Delonghi Essenza
Nespresso designs all of its machines, but it does not manufacture them. It outsources that to its partners Breville and De'Longhi. Both are leaders in making high-quality kitchen appliances. The difference between the Breville and De'Longhi machines is just in the design (both shape and color). Unless you have a really strong preference, I would recommend buying whichever brand is offering the lowest price.
Essenza Mini vs Plus
The Essenza Plus is usually $60 more expensive than the Mini because of the extra features it has:
2 additional drink sizes (5 oz Americano and 6.7 oz Americano XL). An Americano is a long and mild coffee paired with hot water.
larger used capsule container (holds 5 additional pods)
66% larger water tank
WiFi connectivity enabled for easy capsule reordering
In short, with the Plus you get a couple more drink options and will need to clean it less frequently than the Mini. Unfortunately, at the time of this post, the Plus was unavailable due to supply chain issues. Check Nespresso.com to get the latest status.
Essenza Mini vs Pixie
Like the Essenza Mini, the Pixie can only prepare espressos and lungos. Other than the design, the differences are pretty minor in my opinion. The Pixie heats up 5 seconds faster, holds 11 used capsules instead of 6 and has a water tank that is almost 20% larger. Unless you really care about the design, I would probably choose whichever one has the lower price.
Essenza Mini vs Inissia
Other than the design, the Inissia is very similar to the Mini. The Inissia heats up 5 seconds faster, holds 11 used capsules instead of 6 and has a water tank that is almost 20% larger.
See my related post if you want more detailed information about how the specs compare between the Essenza Mini, CitiZ, Pixie and Inissia.
get our latest guides, reviews, recipes and more for your coffee machine in your inbox
Thank you for subscribing. Check your email and confirm your subscription.
Something went wrong.