I may get commissions for purchases made through links in this post.
How To Clean Nespresso Essenza Mini – A Complete Guide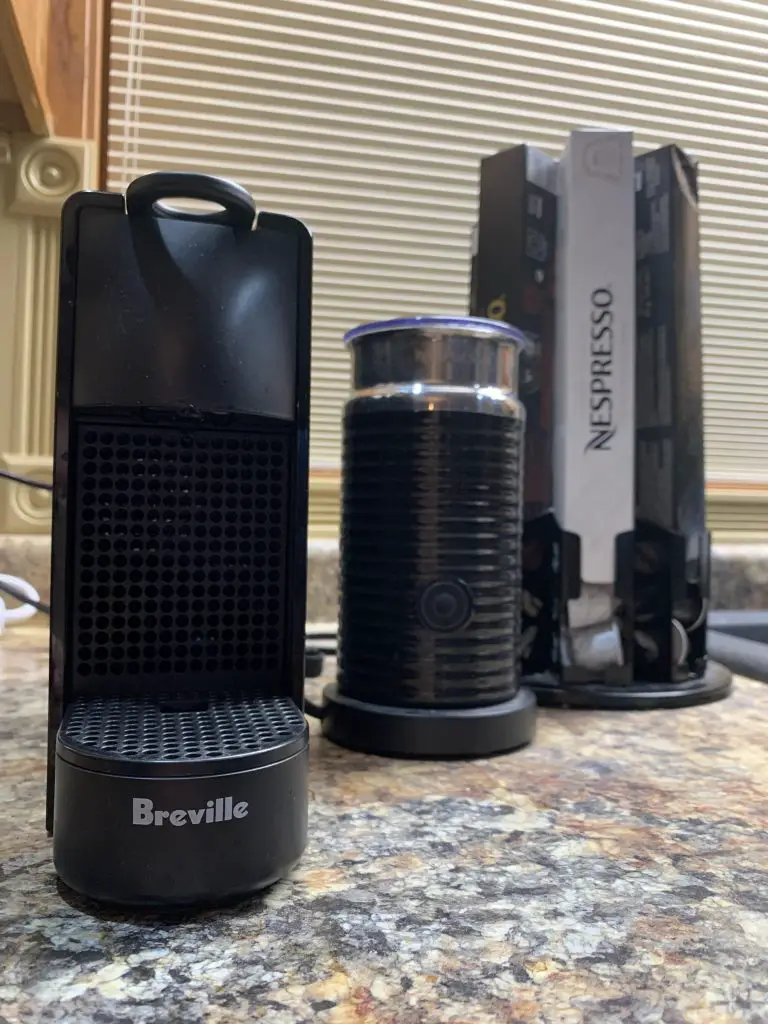 There is some basic cleaning you'll want to do to your Nespresso Essenza Mini daily or at least once a week. In addition, there is deep cleaning needed a few times a year that removes minerals left behind from water. If left untreated, these minerals can have a negative impact on the temperature and taste of your coffee as well as the machine's water flow. Keep reading to learn more about how to clean Nespresso Essenza Mini, with step by step instructions.
Daily or Weekly Cleaning For Nespresso Essenza Mini
There are a few basic cleaning things you can do every day to keep your Essenza Mini working well:
Fill the tank on a daily basis using clean water.
Empty the drip tray and capsule container to prevent overflowing and bacteria buildup.
If your machine has any milk frothing attachments or accessories, be sure to wipe those down immediately after use and wash them at the end of the day.
You should always eject used coffee pods right after brewing. Never leave them in the pod holder. If you do coffee grinds can get stuck there leading to a burnt or bitter taste in your next cup.
One of the most important things you can do to keep your Essenza Mini clean is run a water only brew cycle with no pod in the unit. This will clean out any leftover coffee grinds and residue from the pod holder. I like to do this at least once a week. You can press either the espresso or the lungo button. I prefer to use lungo so that more water runs through the machine to clean it.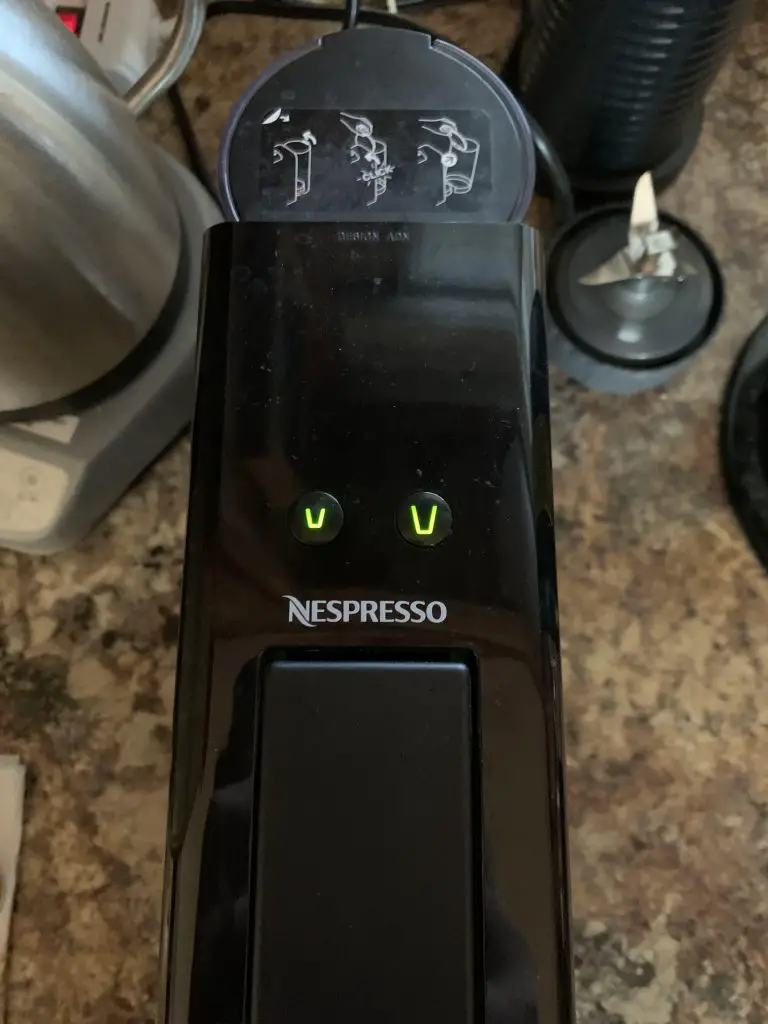 Occasional Deep Cleaning For Nespresso Essenza Mini
In addition to this basic daily or weekly cleaning, Nespresso recommends you deep clean your Essenza Mini every 3 months or 300 capsules, whichever comes first. This process is called descaling. If your tap has "hard water," meaning it contains higher level of minerals, then you should clean your espresso maker more frequently. If you are not sure about the level of minerals in your water, you can get a low-cost water testing kit.
It takes around 15 to 20 minutes to finish the process. It cannot be stopped so be sure to start only once you have all of the supplies you need and have enough time to finish it.
Why Cleaning Nespresso Essenza Mini With Vinegar Is A Bad Idea
Nespresso warns that you should NOT clean your Essenza Mini with vinegar. White vinegar contains 5-8% acetic acid. This specific type of acid can wear down metal and cause your unit to leak. As a result, using vinegar to clean your Nespresso can void the warranty.
Instead of damaging your machine by using vinegar, you can use one of these descaling kits to maintain your Nespresso Essenza Mini. These kits contain safer and effective types of cleansing acids.
Nespresso Essenza Mini Cleaning Solutions
This is the official descaling solution kit made by Nespresso. Nespresso strongly recommends only using this cleaner. It is compatible with all models, including the Essenza Mini. This solution will gently eliminate the lime scale that has built up in your machine. Each pack contains 2 kits, so you'll get two total uses out of it.
The Impresa solution is a top selling coffee machine cleaner. It uses citric and sulfamic acids. Both are gentle on metal and aluminum. A pack has two bottles, each enough solution for two uses.
The De'Longhi EcoDecalk is another Amazon customer favorite. It is made in Italy with high quality, plant-based lactic acid. This solution can be used to solve a descaling issue with any coffee machine, including those made by Breville. A 16.90 fl oz bottle contains enough solution for up to 5 uses.
How To Deep Clean Nespresso Essenza Mini
To clean your machine, you need a descaling solution. Your manual has steps on how to clean. You may also see pdf pages 18-19 in the Nespresso Essenza Mini manual.
Prepare The Machine
Open the lever to eject any used capsule. Empty the drip tray and used capsule container.
Add the solution and water to the tank, following the instructions on your kit. For the Nespresso solution, and add one packet of liquid and then about 0.6L of water until you reach the MAX line.
Place a 1L container under the coffee outlet. Turn the machine on.
Start The Cleaning Cycle
Press and hold both the Espresso and Lungo buttons for 5 seconds to enter descaling mode. Both buttons will blink.
Press the Lungo button only and the descaling process will start. Wait until the water tank is empty.
Pour the contents of the container back into the water tank. Repeat steps 4 and 5.
Rinse The Machine
Empty and rinse the water tank thoroughly. Fill it with fresh drinking water only.
Perform a rinse cycle to remove any residue from inside the machine. To do this, repeat steps 4 and
Complete The Process
Press and hold both the Espresso and Lungo buttons for 5 seconds to exit cleaning mode.
Empty the drip base.
get our latest guides, reviews, recipes and more for your coffee machine in your inbox
Thank you for subscribing. Check your email and confirm your subscription.
Something went wrong.