I may get commissions for purchases made through links in this post.
How To Recycle Nespresso Pods & Starbucks Pods The Right Way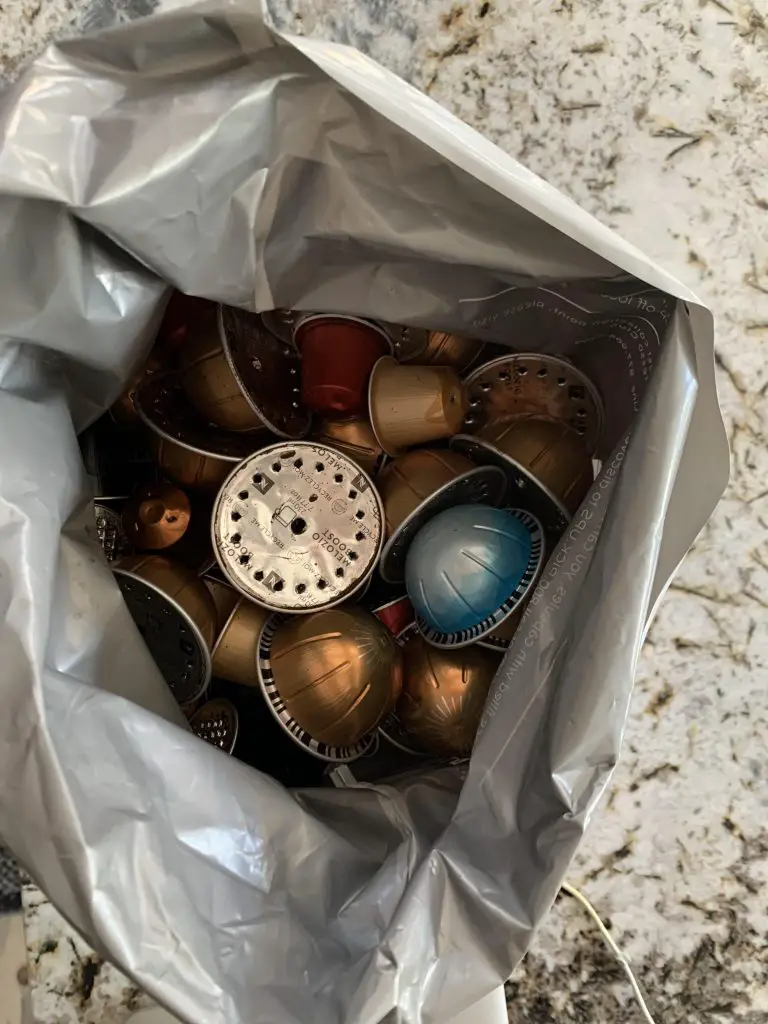 For some people considering whether a Nespresso machine is worth it, the environmental impact of the used pods may be a concern. You can easily go through hundreds of pods in a year. Where will those pods end up and what will happen to them? Fortunately, sustainability is a priority at Nespresso (now a certified B corp). They've created a program to give used pods new life. Keep reading to get answers to commonly asked questions about how to recycle Nespresso pods.
What Are Nespresso Pods Made Of?
Nespresso pods are made of aluminum. This is the ideal material to preserve the freshness of the coffee inside. It also makes them really easy to recycle.
The raw form of aluminum is the third most abundant natural resource on the planet. However, the process of turning it into a usable form is very energy intensive. Discarded aluminum products also take up substantial space in our landfills. Recycling aluminum uses significantly less energy that creating new aluminum. That's why it is so important to give your pods a second life!
Which Nespresso Pods Can Be Recycled?
If you only use pods made by Nespresso and purchased from Nespresso or one of its authorized retail partners, then you can recycle all of your pods through the Nespresso program! This is the easiest way to recycle Nespresso pods because you don't have to remove the coffee grinds from inside. It gets more complicated if you use third-party Nespresso compatible pods. Most of these cannot be recycled through the Nespresso recycling program. The easiest way to know is to check the sleeve on your pods. You'll see a logo like this if they can be recycled.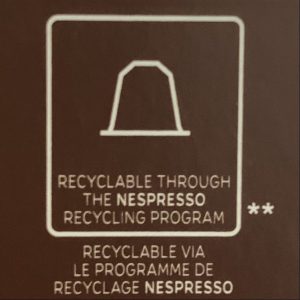 Are Starbucks by Nespresso Pods Recyclable?
Starbucks is an official Nespresso partner. That means you can recycle all Starbucks by Nespresso coffee capsules through the Nespresso recycling program. Starbucks is actually the only official Nespresso partner.
Are Other Third-Party Capsules Recyclable?
If you are using pods made by another brand, like Peet's Coffee or Trader Joes, you won't be able to send those to Nespresso for recycling. In the US you would have to remove the aluminum covering from the pods, discard the coffee grinds in the trash or a composting bin, rinse the capsule, then place in the recycling bin. In the UK, you may actually be able to recycle these pods through Podback.
That said, some of these third party pods are compostable. For example, Williams-Sonoma has some compostable pods that are compatible with Nespresso original machines.
How To Prepare Nespresso Pods For Recycling?
For those pods eligible for the Nespresso program, there are a couple things you might want to do to used pods before putting them in the recycling bag. These are totally optional steps. You can certainly just toss your used pods in the bag, but I find the following steps help reduce odor and mold. First, take your used pods and rinse them under the sink faucet. Then place them top down on a paper towel to let them dry out. Use caution when moving them from the sink to the towel as some pods have lose coffee grinds as you move them. After a half a day or so, move the capsules to the recycling bag or bin. This helps prevent coffee water from accumulating in the recycling bag, which could lead to leaks during transit.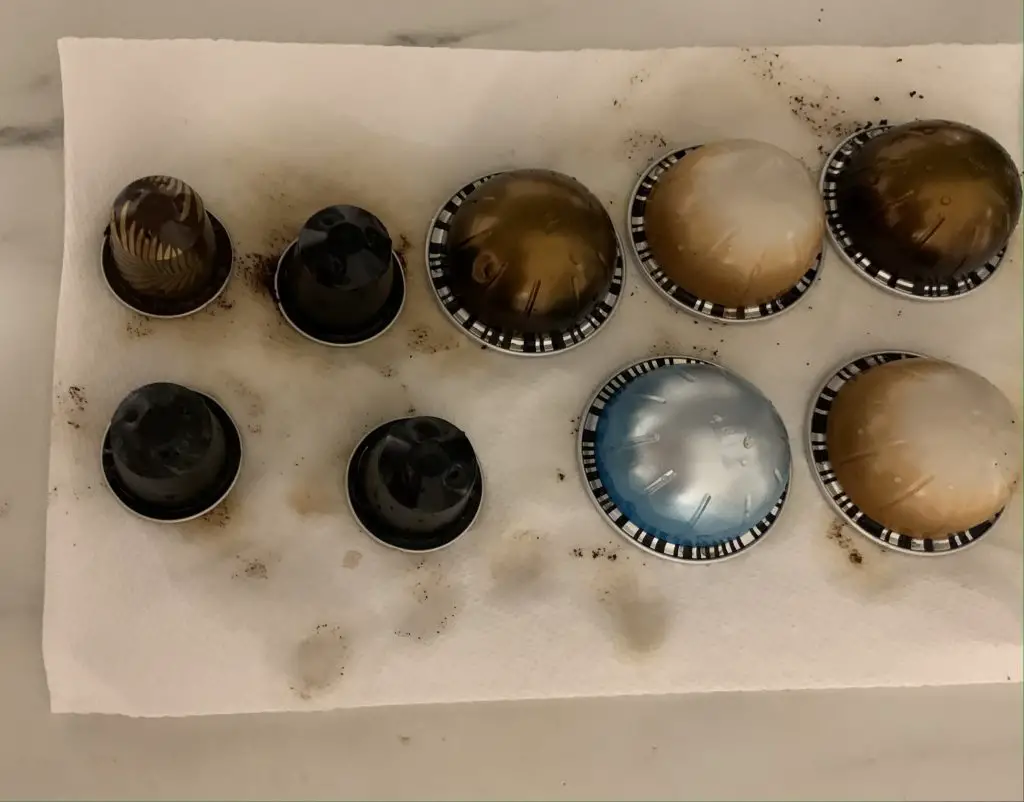 How To Recycle Nespresso Pods? (By Geography)
In many places, Nespresso pods cannot simply go into a recycling bin at home. The good news is that there are at least two or three different ways to recycle in the major Nespresso markets.
United States
You can recycle Nespresso pods by mail or in person in the US. When you get a free recycling bag from Nespresso with your pod order, it will come with a pre-paid mailing label. You can drop off this bag at any of the 88,000 UPS locations or drop boxes.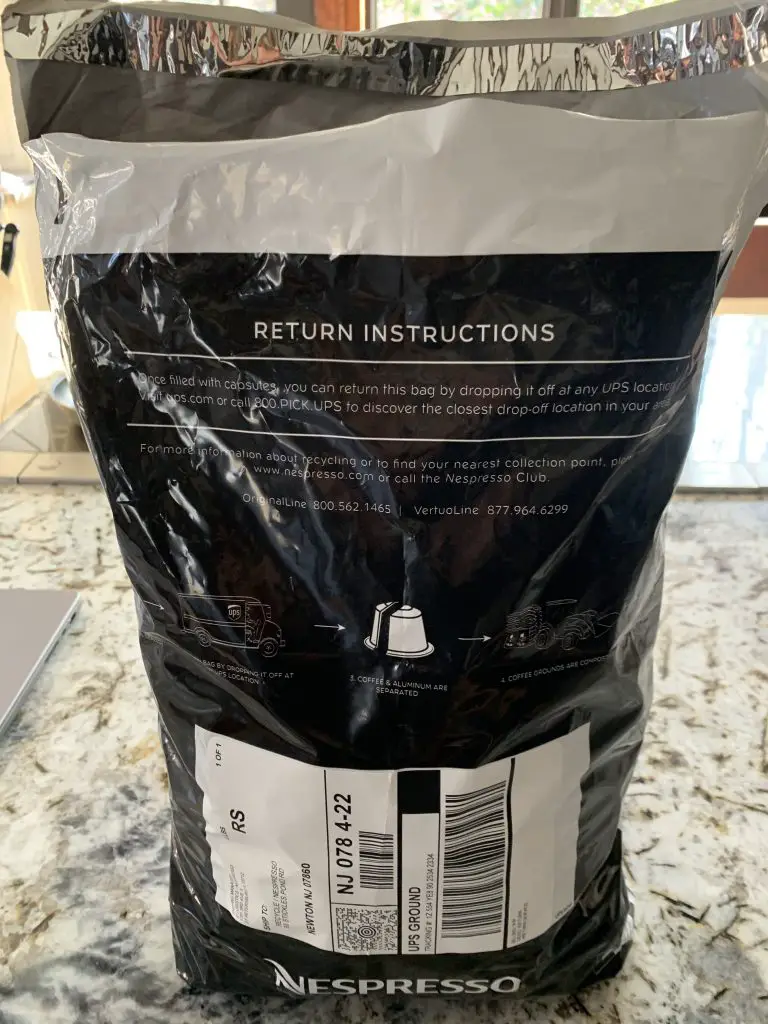 If you prefer to drop off the pods to a store, you can return the sealed recycling bag at any Nespresso boutique, including those inside stores like Bloomingdales. You can also bring the bags to any Williams-Sonoma, Williams-Sonoma Outlet or Sur La Table location.
If you happen to live in New York City, there is no need for a bag! You can just add your used Nespresso capsules to your curbside bin with other recyclable materials like metal, glass and plastic.
Canada
You can get a complimentary recycling bag with your order from Nespresso. There are three colors to choose from, depending on how you want to send them back. The black bag can only go to a Nespresso boutique, so choose that only if you live close to one. The red bag is for mail via Canada Post. You can drop the red bag off at a post office or mailbox. In select municipalities, the green bag can go in your municipal recycling bin along with your other recyclable materials.
UK
You can get a complimentary recycling bag with your order from Nespresso. There are four ways to get this bag back to Nespresso for recycling.
Drop it off at a Nespresso boutique
Request that Nespresso pick up your recycling bag during your next coffee order. Just leave the bag on your doorstep.
Through the Podback recycling program, you can drop off your bag at over 6,500 CollectPoint locations.
Depending on where you live, you may be eligible for Podback kerbside pickup.
Australia
There are over 19,000 collection points in Australia for used pods. This includes Nespresso boutiques as well as other participating businesses. There is a helpful tool to find drop off locations near you.
To mail in your pods via the Australia Post, you will need to buy a satchel from Nespresso during your next order. At the time this post was written, the bag was $4.
A third option is using a community recycling bin that may be available at your workplace or in your neighborhood. If there is not one and you want to start it, you can get a free bulk recycling box from Nespresso.
What Happens To Recycled Nespresso Pods?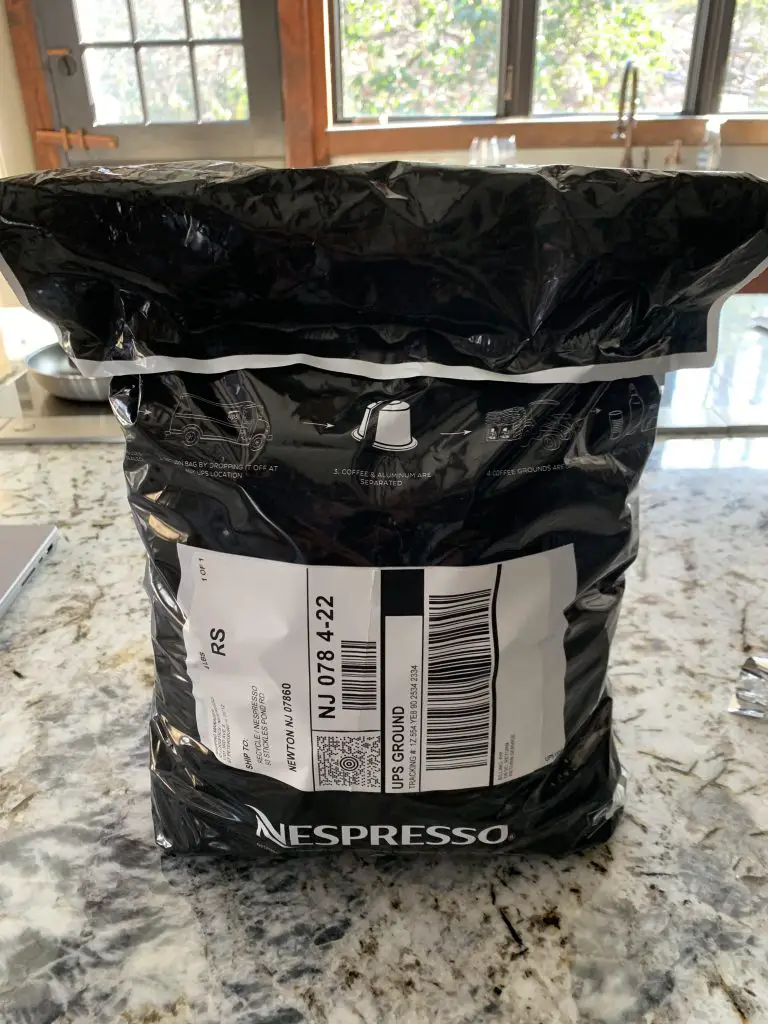 Once Nespresso receives the used pods at its recycling facilities, they separate the coffee grinds and aluminum. The coffee grounds are composted into topsoil that is rich in nutrients. The aluminum gets a second life in other types of products like cans, pens or even new pods. In 2019, Nespresso made a bicycle from 300 recycled pods to show us an example of what can be done when we send in our pods!
You can have confidence that Nespresso is really recycling your pods. Their process has been verified and certified by independent third party auditors, including Intertek.
Can You Recycling Nespresso Pod Sleeves?
The sleeves that Nespresso pods come in are cardboard. This material can go in your regular recycling along with other cardboard.
The Future of Nespresso Pod Sustainability: Paper Pods
If the environmental impact is a concern for you, then you may be interested to know that Nespresso has trying to shift away from aluminum. As of Spring 2023, Nespresso is piloting paper-based capsules in France and Switzerland. These pods would be completely compostable. The company spent three years developing this more sustainable option. It is still to be determined if and when these will launch in other countries.
get our latest guides, reviews, recipes and more for your coffee machine in your inbox
Thank you for subscribing. Check your email and confirm your subscription.
Something went wrong.