I may get commissions for purchases made through links in this post.
Where To Buy Nespresso Vertuo Pods & Original Pods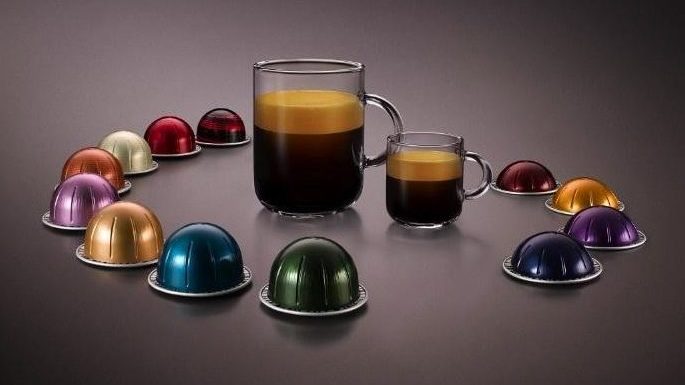 If you want to stock up on coffee or espresso capsules, you may be wondering who sells Nespresso pods in stores or online. Your options will be much more limited if you want to buy Nespresso capsules in stores. However, there are many more options if you shop online. I put together a summary of where to buy Nespresso pods in store and online so you can find the best place to buy for you.
Where can I buy Nespresso pods in stores?
What stores sell Nespresso pods? Nespresso shops are the only places you can buy official Vertuo and Original capsules in store. There are 48 stores in the US. To find the closest store, use this store locator. Most people living outside of urban areas can expect a long drive. That's why we recommend shopping online, from Amazon or Nespresso.com.
That said, if you are in need of coffee capsules ASAP you have some options. You can find compatible capsules from brands like Starbucks in many stores. Target, Walmart, and Bed Beth and Beyond will sell them. A grocery store near you may also carry them. Starbucks is an official partner, so you can be sure that they will work with your Nespresso machine.
Where to buy Nespresso pods online?
Amazon
In my opinion, Amazon is the best place to buy Vertuo and Original capsules. Here are 5 reasons why:
CONFIDENCE: Amazon is an authorized seller of Nespresso capsules. That means you can shop with confidence when the product says "Shipped and Sold by Amazon."
PRICE: The price per pod on Amazon is usually the same price as when you buy direct from Nespresso. There are sometimes subscribe and save special discounts.
SHIPPING: If you are an Amazon Prime member, you'll get free two day shipping on your coffee pods order.
SELECTION: Amazon carries pod variety packs, which are great if you want to try lots of different flavors. In addition, Amazon carries capsules from Starbucks (Vertuo and Original).
SUSTAINABILITY: Capsules bought from Amazon are eligible for the Nespresso recycling program. However, you'll need a recycling bag or be able to visit a Nespresso boutique near you to recycle them.
While you'll find nearly all of the most popular capsules on Amazon, it is worth noting that Amazon doesn't carry all of the pod flavors. Some capsules are exclusive to Nespresso's stores and website. Also, Amazon carries pods in packs of 3 to 5 sleeves. That's perfect for when you want to stock up on your favorites. However, if you are new to Nespresso capsules you may want to try a single sleeve first. If so, then Nespresso.com may be a better place to buy pods online.
Nespresso
Shopping at Nespresso.com offers some benefits that you won't get from other sites:
Exclusive flavors. You'll find these by visiting the pod page for your machine and looking at the category labeled "Exclusive Flavors." These include some popular Vertuo pods like Il Caffe (espresso), Bianco Leggero (double espresso) and two new 8 oz coffee pods with 20% more caffeine: Melozio Boost and Stormio Boost.
Option to buy a single sleeve of a pod. This is a great benefit if you value having lots of variety, or if you like to try a new flavor first before buying lots of it.
Coffee or espresso samples included with every purchase. This is usually one or two capsules. Sometimes you have the option to select which samples you want.
It's easy to add supplies you may need like a descaling solution or recycling bag.
There are occasional promos or offers. The best way to learn about these is to subscribe to the mailing list.
Shipping is free on orders of $35 or more, which is usually around 5 sleeves. If you place smaller orders more often, then you'll end up getting more free samples!
Bed Bath and Beyond
Bed Bath and Beyond sells Vertuo pods and Original pods online. Like Amazon, these are sold in single capsule multi-packs as well as a few variety packs. Because these items are not sold in stores, your only option is free shipping to your home. Note that Bed Bath and Beyond coupons cannot be applied to Nespresso brand capsule purchases. However, sometimes these items do qualify for site wide promos like Spend $50 and Get a $10 gift card. If you use the Honey app, you can also earn points redeemable for cash back when you buy pods on bedbathbeyond.com. If you don't have Honey, you can sign up with my referral link.
Bed Bath and Beyond also sells Starbucks capsules for both Vertuo and Original models. In most cases, there is a minimum order of 2 packs for any Starbucks pod flavor you want to buy. Because these are sold by Bed Bath and Beyond, you can order online and pick up in store. If you want them shipped to you, you have to spend at least $39 to get free shipping.
Walmart
Walmart.com sells capsules through an "authorized Nespresso seller." However, there are also unauthorized sellers offering these pods on Walmart.com. Be sure to read closely where the items are shipped and sold from.
Walmart also has several compatible coffee capsules for the Original line; Gevalia, Lavazza, Starbucks and Peet's Coffee are all shipped and sold by Walmart. For a Nespresso Vertuoline machine, your only option will be Starbucks capsules.
Walmart.com offers free shipping over $35. Some of the items shipped and sold from Walmart may even qualify for next day delivery, depending on where you live.
Macy's
Macy's capsule selection includes both Nespresso brand pods as well as some compatible capsules for Nespresso Originalline machines. Compatible capsules sold at Macy's include Starbucks and Community Coffee. If you use the Honey app, you can also earn points redeemable for cash back when you buy pods on macys.com. If you don't have Honey, you can sign up with my referral link.
Target
Target.com only sells Nespresso compatible pods. For the Vertuoline coffee makers, Target only carries Starbucks capsules. For the original line, they carry Starbucks, Peet's Coffee, Lavazza and Cafe Bustelo. Target also has capsules available under its own brand Good & Gather. You can get free 2-day shipping from Target when you spend $35 or more, or use your RedCard.
Costco
Unfortunately, Costco does not sell Vertuo capsules. However, Costco does sell Original compatible capsules made by Starbucks and Peet's Coffee. The Peet's Coffee bulk pack includes 80 total capsules. You'll get two 10-packs of their four best-selling bold, rich blends. The Starbucks capsules are available in espresso dark roast and blonde roast. There is also usually a Starbucks decaf pack and a variety pack. All of these Starbucks packs are 60 count, which means you are getting a pod for only 67 cents! That is a 25% discount
Sam's Club
Unfortunately, Sam's Club does not sell Vertuo capsules. However, Sam's Club does sell Original compatible capsules made by Starbucks. They are only available in a variety pack. The price is great – you'll save 25% vs buying these at Target or Walmart.
Where To Buy Nespresso Compatible Capsules Online?
If you have an Original machine like the Essenza, Pixie, CitiZ, Creatista or Lattissima, you can also find some third party compatible capsules online. These are usually priced at a discount vs authentic Nespresso pods, so can be a good option if you are trying to save money. Who sells Nespresso compatible pods online? One popular site is Gourmesso. You can get a 10 pack of pods there for just $4.99!
get our latest guides, reviews, recipes and more for your coffee machine in your inbox
Thank you for subscribing. Check your email and confirm your subscription.
Something went wrong.