I may get commissions for purchases made through links in this post.
How To Make A Nespresso Iced Coffee Without The Ice Melting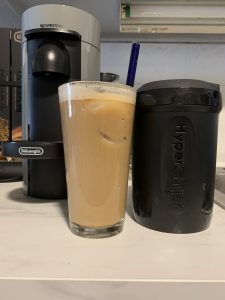 Everyone knows that Nespresso machines are great for making hot coffee and espresso, but can you also make iced coffee at home with a Nespresso? Yes! If you just got a Nespresso Vertuo or Original machine or are thinking about getting one, knowing how to make a good iced coffee with these pods will help you cut back on your coffee shop spending. Keep reading to learn how to make a delicious Nespresso iced coffee without that watered down taste from rapidly melting ice.
Iced Coffee vs Iced Latte: What's The Difference?
The type of iced Nespresso coffee drink you can make will depend on which type of Nespresso model you have: the Original line vs the Vertuo line.
Original Nespresso machines can only brew espresso. Espresso is a highly concentrated shot of coffee used to make an iced latte. An iced latte will be about equal parts chilled espresso and cold milk. You add the chilled shot of espresso first and then top it off with milk. If you want a stronger espresso taste, you can add the milk first then put the coffee on top. This is called a latte macchiato. If you have an aeroccino milk frother, you can use it to create cold foam when the light turns blue. You can see my related post on how to make a Nespresso latte if you want to learn more about lattes.
Nespresso Vertuo machines can brew both espresso and coffee. If you have a Vertuo Line model, you'll be able to make either an iced latte or a regular 8 oz iced coffee that you can drink black or with some milk.
For simplicity, I'm just going to use the term "iced coffee" in this post to cover both iced lattes and iced coffee. Just know that if you want an iced latte, you need a single or double espresso pod. If you want iced coffee and you have a Vertuo, you need a 7.8 oz coffee pod.
Choosing The Right Nespresso Pods For Iced Coffee
Any Nespresso pod can be used to make an iced drink. However, there are some new Nespresso cold brew pods are specifically designed for iced drinks. They are ground in a special way to create a delicate, cooling sensation. There is one iced double espresso and one iced coffee pod for the Vertuo line. There are two iced espresso pods for the Original line. The difference between the two iced espresso pods is the intensity. Delicato is a lighter roast espresso, whereas Intenso is a darker roast. Amazon sells variety packs of both iced pods for Original and for Vertuo.
How To Make Iced Coffee With Nespresso
Here are four different ways how you can make iced coffee with Nespresso. In my opinion, the HyperChiller method is the best way if you are willing to pay $25 to buy the accessory.
Add Milk First
A simple thing you can try is adding your milk or creamer to the coffee BEFORE adding the ice. If the milk is cold, it will cool the hot brewed coffee down. Stir with a spoon, then go ahead and fill it up with ice. This isn't perfect as the ice will still melt pretty quickly. But if you are in a rush, it is the best you can do. Don't use crushed ice – that will melt too quickly.
Get The HyperChiller
Have you heard of the HyperChiller? It is a super popular among single-serve machine users. I use it at home to make my Nespresso iced coffees. It can chill coffee in 60 seconds or less with zero dilution. The HyperChiller uses just regular water (no gels or chemicals). Fill it with water and then store it in the freezer. To use the HyperChiller with your Nespresso machine, place it under the outlet and brew the coffee capsule directly into it. Let it sit for 60 seconds, then pour the contents into a glass full of ice. Clean up is easy too since it is dishwasher safe. See my related post on a complete review of the HyperChiller.
Chill In The Refrigerator
If you have time, you can brew some pods into your mug or tumbler and then let it sit in the fridge for 30 minutes. When the time has passed, take it out, add your ice cubes and then any milk and sweeteners.
Make Coffee Ice Cubes
If you have the time to plan ahead, then you can make coffee ice cubes for a stronger cold drink. Brew a few espresso pods or a couple coffee pods and let liquid chill in the refrigerator. Don't use the same pod more than once! After 30 minutes, take it out and pour it into an ice tray. Let it freeze for several hours. When you go to make your next cold coffee, use these cubes instead of regular ice. They will melt, but you'll be adding coffee to coffee instead of water to coffee from regular ice cubes. It may make your drink taste extra strong, which could be good or bad depending on your taste preferences.
Nespresso Iced Coffee Recipes
With so many different flavored syrups out there, there's no shortage of Nespresso iced coffee recipes. Here are some of my favorite ones.
How to Make an Iced Vanilla Latte
Pour one ounce of vanilla syrup into a glass that is 12 oz or larger.

Pour the chilled espresso directly into the glass.

Add cold milk into the glass to your desired taste.
Top with whipped cream (optional)
How to Make an Iced Caramel Macchiato
Drizzle caramel sauce into a glass that is 12 oz or larger.
Add cold milk into the glass. You can cold froth the milk first if you have an Aeroccino. For a stronger espresso taste, use less milk.

Pour the chilled espresso directly into the glass.

Top with whipped cream and extra caramel sauce (optional)
get our latest guides, reviews, recipes and more for your coffee machine in your inbox
Thank you for subscribing. Check your email and confirm your subscription.
Something went wrong.