I may get commissions for purchases made through links in this post.
What's The Difference Between Nespresso Aeroccino 3 vs 4?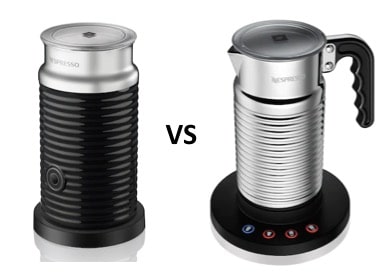 There are still two versions of the Nespresso Aeroccino milk frother on the market. How similar or different are the Aeroccino 3 vs 4 and which one should you buy? Keep reading to find out everything you need to know.
As an Amazon Associate, I get commissions for purchases made through links in this post. 
What Is Aeroccino?
Aeroccino is a line of milk frother accessories made by Nespresso for use with Vertuo and Original machines. Unlike steaming milk, frothing injects air into the milk while heating it to create a delicate foam. Using a frother like the Aeroccino is an essential step in making drinks like cappuccinos and latte macchiatos.
Nespresso Aeroccino 3 vs 4
Nespresso released the Aeroccino 3 in 2016; the Aeroccino 4 came out in 2021. While there are many similarities between the two, there are a several features in the fourth generation that you won't find in the third. Keeping reading to see if those features matter to you.
Aeroccino 3 vs 4 Similarities
Hot and Cold Frothing: Both models can make hot foam for cappuccinos and macchiatos, hot milk for a latte or hot chocolate, and cold foam for an iced macchiato or iced coffee
Milk Type: Both models recommend using cow milk for best results, either reduced fat or whole milk. Reduced fat milk will make a dry, stiff foam whereas whole milk will produce a wet silky foam. Either is fine, it is just a matter of preference. Non-dairy milks will not froth as well given lower fat content.
Speed: Both machines can froth milk pretty quickly, in about 70-80 seconds.
Energy Saving: Both the Aeroccino 3 and Aeroccino 4 have auto shut off functionality.
Aeroccino 3 vs 4 Differences
Where To Buy The Aeroccino Milk Frother
You can find both Aeroccino frothers at several retailers. Check to see who has it in stock at the best price.
How To Use Nespresso Aeroccino 3 Frother
First make sure the underside of the jug is dry. Modify the whisk for either frothing or steaming. If you want to froth milk for a cappuccino, leave the coil ring around the whisk. If you want to steam milk for a latte, remove the coil ring. Add the desired level of milk to one of the two max levels on the container. If you are using the coil ring to froth milk, never fill above the lower max line otherwise the milk will overflow. If you are not using the ring, you can fill to either max line. Place the jug on the base. Press the button to start. For hot preparations, press the button only briefly. For cold frothing, keep the button pressed for two seconds. You can also see my complete guide on how to use the Aero3.
How To Use Nespresso Aeroccino 4 Frother
Place the clean whisk in the Aeroccino 4 and then add milk to one of the two max level indicators inside the jug. For milk froth, you will not want to exceed 120 ml. For hot milk, stay at or below 240 ml. Put the lid on the jug and make sure the bottom of the jug is dry before placing it on the base. The 4 buttons should display a steady light. Press the desired button to start milk preparation. The light will start blinking but will turn steady when the milk is ready.
If you need more help, see the complete Aeroccino 4 user manual.
get our latest guides, reviews, recipes and more for your coffee machine in your inbox
Thank you for subscribing. Check your email and confirm your subscription.
Something went wrong.