I may get commissions for purchases made through links in this post.
Keurig 1.0 vs 2.0: What Are The Major Differences?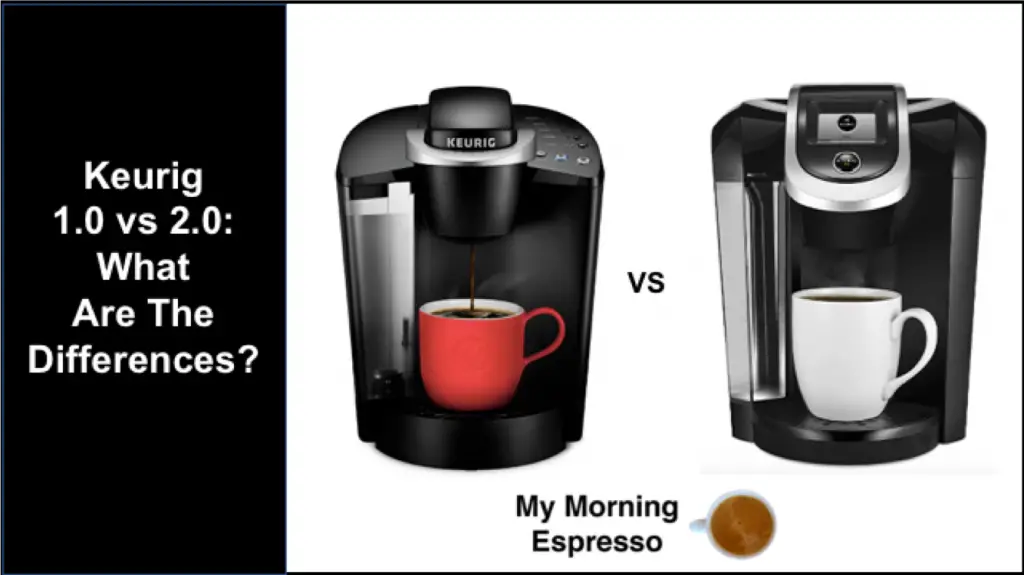 Not all Keurig machines are created equal. After Keurig single serve coffee maker machines were first marketed, a second version was introduced. The 2.0 line attempted to address many of the issues people experienced with the original Keurig 1.0 line, but ended up causing more problems. Keep reading to learn more about the key differences between Keurig 1.0 vs 2.0 coffee makers.
What Are Keurig Machines?
Keurig brand machines are convenient and innovative coffee machines that use pre-measured portions of coffee grounds and water to create delicious beverages with just a few simple clicks. These machines are popular around the world due to their convenience and quality.
The Keurig company was founded in 1992, but it introduced the famous K Cup pods and Keurig classic coffee brewer six years later in 1996. In 2004, Keurig introduced a line of Keurig K Cup brewing machines for home use. The Keurig 2.0 line was launched 10 years later in 2014.
Keurig 1.0 and 2.0 Overview
The Keurig 1.0 coffee maker was originally introduced with a variety of innovative features that coffee drinkers loved. These machines quickly proved popular in offices and homes. They simplified making a cup of coffee with size selection, flavored pods, and more. Best of all, Keurig 1.0 machines were also compact and easy to clean. There is only one model from this Original Keurig line still available for sale – the Keurig K Classic.
Later on, Keurig 2.0 machines were introduced. These machines included many new features like a touchscreen and carafe sized pods. However, they also had some unpleasant restrictions. I'll explain more about those below. These restrictions caused owners to become so angry that Keurig ended up discontinuing this line in 2019. That said, you can still find some for sale on Amazon. Keurig 2.0 models include the K200, K300, K350, K400 and K500.
Keurig 1.0 vs 2.0: Comparing the Essential Features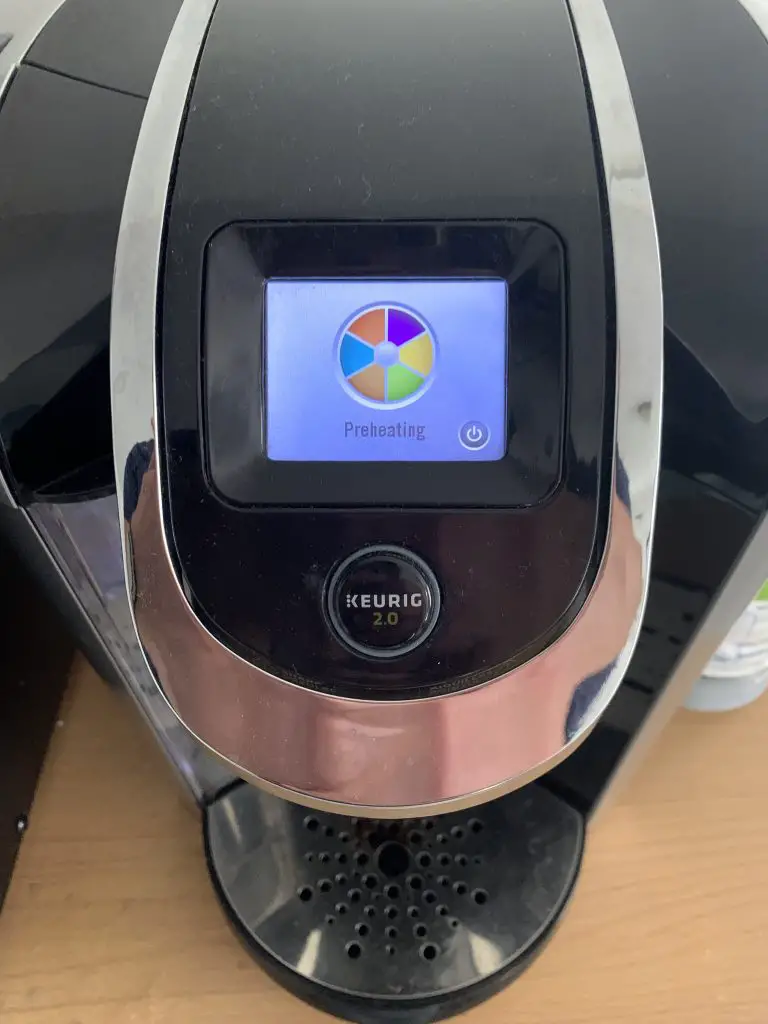 Design: Keurig 1.0 machines were bulkier and simpler. While Keurig 2.0 models had a similar size to 1.0 machines, they were the only models that came with a built in touch screen.
Pod Restrictions: One of the most controversial changes with the introduction of Keurig 2.0 machines is their restriction against off-brand pods. While this was a significant issue in the past, most off-brand pods today can bypass the scanner on Keurig 2.0s.
Water Tank Capacity: In the past, bulky Keurig 1.0 machines were typically built with smaller water tanks to reduce their size. Some models of Keurig 2.0 machines had much larger water tanks, up to 80 ounces!
Brew Control Settings: While the original Keurig coffee maker focused on delivering simple but delicious coffee, Keurig 2.0s had considerably more features. When you use a Keurig 2.0, you can use the brew control settings to create many different types of coffee. For example, only 2.0 machines can make carafe size coffees. You can also control the strength of your coffee with all Keurig 2.0 models.
Auto Off: One of the most useful features of modern Keurig machines is their ability to turn off automatically. While this was common feature of Keurig 2.0 machines, it's important to note that it's not included with every device from the original Keurig 1.0 line.
Pricing: Because Keurig 2.0 machines are now discontinued, you can generally expect to pay a premium if you happen to find one sold online.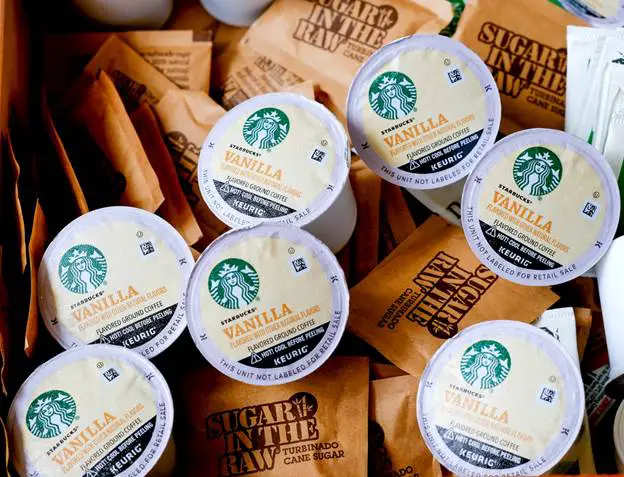 Why Were Keurig 2.0 Machines Introduced And Discontinued?
Keurig 2.0 machines were introduced in an attempt by Keurig to keep its brand relevant and innovative. In 2012, the patent for the Keurig K Cup was coming to an end, putting Keurig in a difficult position. Many other companies started to sell their own versions of Keurig cups without permission.
To reclaim its share of the market, Keurig introduced a brand new line of machines. These machines were packed with tons of useful features, such as removable drip trays and descaling indicator lights. Unfortunately, they also barred users from brewing off-brand Keurig cups.
Keurig 2.0 machines are equipped with a scanner to determine whether the coffee pod you're using is from the Keurig brand. If the K Cup is rejected, the Keurig will refuse to make the drink.
Many users found this very frustrating. After all, while they may have agreed to purchase the coffee machine itself, it was another thing that the company forced users to stop drinking their favorite third-party brand K Cups or using their reusable coffee pods.
While this was a significant issue when the second line of Keurig coffee brewer machines was introduced, the situation has improved considerably for coffee drinkers since then. Many third-party companies that Keurig attempted to drive out of the market have since learned how to make any pod compatible with 2.0 models.
If you find that your favorite K Cup pods aren't compatible with your Keurig 2.0 machine, there is still hope. Many users find it simple to bypass the restrictions of the Keurig 2.0 machine by taping the lid of a legitimate K cup pod inside the coffee machine. You can also use a third-party insert that helps block the internal scanner.
Should I Use A Keurig 1.0 Or 2.0?
In the past, many people held strong opinions about the various lines of Keurig coffee makers. While Keurig 2.0 models did introduce a variety of incredible new features, they also restricted people from using their reusable K Cups or their favorite off-brand coffees. Many people found this to be a big overreach of power.
A lot of of time has passed since both lines of Keurig coffee makers were introduced. Now that Keurig 2.0 models have been discontinued, the 1.0 vs 2.0 question is no longer that relevant.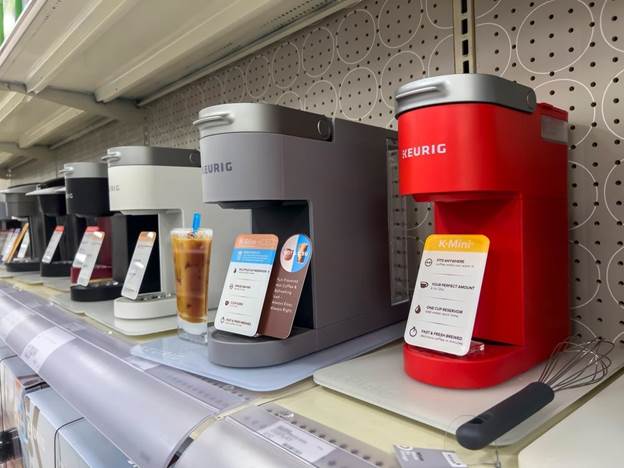 You can still find the Keurig 1.0 K-Classic model, but there are several new Keurig coffee makers that have been introduced since the 2.0 line was discontinued. The latest models have many features that today's coffee consumer would appreciate – including more cup sizes, brew over ice options, and multistream technology that enhance the flavor of your coffee.
get our latest guides, reviews, recipes and more for your coffee machine in your inbox
Thank you for subscribing. Check your email and confirm your subscription.
Something went wrong.