I may get commissions for purchases made through links in this post.
The Best Nespresso Pods And Flavors For The Vertuoline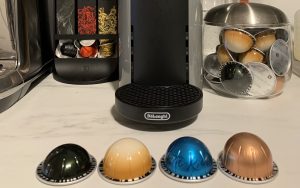 There are so many tempting Nespresso Vertuo flavors to choose from – where should coffee lovers begin? With tens of thousands of user reviews for Nespresso capsules, we think Amazon is a great resource to identify the most popular Nespresso pods. In addition, I write about my own experience with many of these Nespresso Vertuo pods as well as insights gathered from social media discussion groups to help you figure out what you'll like best.
We compiled the best Nespresso Vertuo pods into a helpful buying guide. It's organized by the different types of Vertuo pods available – coffee, espresso, gran lungo, and alto xl. The difference across these types is cup size.
List of The Most Popular Nespresso Vertuo Coffee Pods
Coffee capsules for your Vertuo Nespresso machine make a single 8 oz cup. There are flavored ones as well as unflavored ones. Most of these capsules will have somewhere between 130 mg and 200 mg of caffeine. However, there are a couple pods that will have lower caffeine content. Nespresso also recently launched two regular coffee pods with boosted levels of caffeine in the Melozio and Stormio pods.
Unflavored Vertuo Coffee Pods
The most popular Nespresso Vertuo coffee pods for an unflavored coffee are:
Flavored Nespresso Vertuo Coffee Pods
The flavored, medium-roast Barista Creations coffee capsules are very popular Nespresso Vertuo coffee pods. If they all sound good to you, then check out the variety pack on Amazon. I personally find that the taste of the flavors is pretty mild. If you are looking for a sweet coffee, you'll need to use some syrups to increase the flavors here.
Caramel Cookie is a barista creations coffee with a caramel flavor. Buttery biscuit aromatic notes complement the caramel flavor.
Hazelino Muffin is a coffee with a hazelnut flavor that is smooth and velvety with a hint of sweetness. Notes of biscuit and almond complement the hazelnut flavor.
Vanilla Custard Pie has a delicious and creamy vanilla flavor accompanied by subtle almond and buttery biscuit aromatic notes.
On Nespresso.com, you'll find another Barista Creation pod called Chocolate Fudge. It is a very polarizing pod based on what I've seen in social media discussion groups. Some refer to it as "disgusting" or "gross." People that like it tend to use syrups or creamers which affect the taste. It is probably best to try to get a sample of it first and see if you like it.
Most Popular Nespresso Vertuo Espresso Pods
Unlike the Nespresso Original models that only have single espresso capsules, there are two sizes of espresso available for the Nespresso Vertuoline. The Vertuoline pods also include double espresso capsules. On mornings when I want a bigger iced latte, I'll use a double pod. When I want a standard-size cappuccino, I'll just use a single pod.
Double Vertuo Espresso Pods
Ice Leggero is the Vertuo espresso pod I use most often. It is a must have if you love to make iced lattes like I do. It's lightly roasted and designed to be brewed over ice. It has delicate fruity and cereal notes. If you are adding to this to your cart, consider getting a HyperChiller too for easy iced coffee.
Chiaro is dense, wild and indulgent. It has an intense roast with a unique range of earthy and woody notes. If you use Chiaro to prepare a latte, then the drink will have a creamy texture with blonde caramel notes.
Scuro is dark and bold. It has a dark and smoky profile. When brewed, you'll notice aromatic notes of cocoa and vanilla. Those cocoa notes only get stronger if you use this double espresso to make a milk-based drink.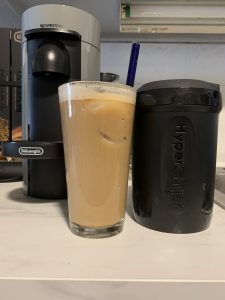 Single Espresso Vertuoline Pods
Can't decide? Try a Nespresso Vertuo Line Espresso variety pack of the two most popular single espressos, Altissio and Diavolitto. If you like iced coffee, try the iced pods variety pack.
Nespresso Vertuo Gran Lungo Capsule Flavors
What is a Gran Lungo Nespresso? It is a 5 oz espresso drink that is brewed with much more water than a regular espresso shot. As a result, you can enjoy a gran lungo longer. The taste will be less intense than a regular espresso, though also more bitter.
There are two gran lungo vertuo pods:
Arondio is a mild coffee with notes of cereal and caramel. You may be surprised to notice a very subtle acidity when you sip on this coffee.
Fortado is intense and full-bodied. Its aromatic notes range from bitter cocoa powder to hints of oak wood. Adding milk won't lessen the power of this coffee, but it will enhance the cocoa notes.
Nespresso Vertuo Alto XL Pod Flavors
Alto pods make a large cup of coffee. An Alto makes a 14 oz cup compared to the 8 oz you would get from a regular Vertuo coffee pod. There were two Alto XL pods, but they are now discontinued. However, there are rumors that Nespresso is working on a relaunch of the 14 oz size.
Dolce XL was a mildly roasted blend of Latin American coffee beans that is smooth and balanced. At first you may notice notes of caramel and sweet toasted bread. Then you will pick up malty and sweet cereal notes that are soft and mellow.
Intenso XL was a smooth and strong cup of coffee. The rare coffee beans from Guatemala used in this blend give it a distinct profile of dark caramel and dried wood. It has sweet malty aromatic notes because of its Costa Rican coffee beans.
Can't Decide? Try A Nespresso Vertuo Pod Flavors Variety Pack
One of the things I love about shopping Nespresso pods on Amazon is that they have several variety packs. If you want to try lots of flavors or if you just like to mix up your morning coffee routine, then these variety packs are perfect. Here are the most popular Vertuo variety packs.
New and Popular Pods Only Available From Nespresso
There are a handful of popular Vertuo pods that are only available if you shop directly with Nespresso. There are also some new releases. Here are some of my favorites that are also popular among members of Nespresso social media groups:
Shopping Nespresso Vertuo Pods on Amazon
In my opinion, Amazon is the best place to buy Nespresso Vertuo pods. Here are 5 reasons why:
CONFIDENCE: Amazon is an authorized seller of Nespresso pods so you can shop with confidence when the product says "Shipped and Sold by Amazon."
PRICE: The price per Nespresso Vertuo pod on Amazon is usually the same price as when you buy direct from Nespresso. However, for a limited time you might be able to score a better deal on Amazon. In January of 2022, Nespresso raised the pod prices by about 10 cents in most cases. Some pods still have the old price on Amazon. Plus, there are sometimes subscribe and save special discounts.
SHIPPING: If you are an Amazon Prime member, you'll get free two day shipping on your Nespresso vertuo coffee pods order.
SELECTION: Amazon carries Nespresso Vertuo pod variety packs, which are great if you want to try lots of different flavors. In addition to capsules made by Nespresso, Amazon carries popular Nespresso Vertuo compatible options from Nespresso partners like Starbucks.
SUSTAINABILITY: Nespresso capsules bought from Amazon are eligible for the Nespresso recycling program, but you'll need a recycling bag or be able to visit a Nespresso store near you to recycle them.
It is worth noting that Amazon doesn't carry all of the Nespresso pod flavors. Some are exclusive to Nespresso stores and Nespresso.com. Also, Amazon carries Nespresso pods in packs of 3 to 5 sleeves. That's perfect for when you want to stock up on your favorites.
However, if you are new to Nespresso Vertuo pods you may want to try a sleeve or two of a flavor first. If so, then Nespresso.com may be a better place to buy Vertuo pods online. You can also check out our post on other places to buy Nespresso pods.
get our latest guides, reviews, recipes and more for your coffee machine in your inbox
Thank you for subscribing. Check your email and confirm your subscription.
Something went wrong.