I may get commissions for purchases made through links in this post.
Is Nespresso Worth It? Pros And Cons You Need To Know (2023)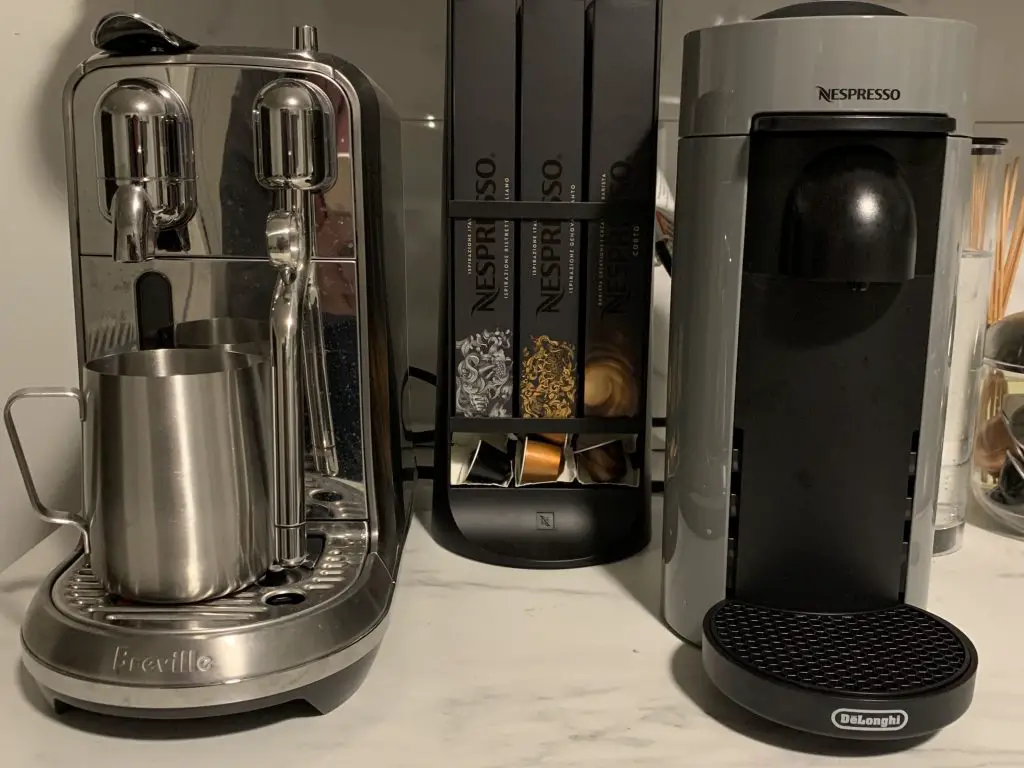 Pod coffee makers are not cheap and there are a lot to choose from. If you like espresso, you may be wondering "is Nespresso worth it?" If you regularly buy drinks like a latte or cappuccino from a coffee shop, then a Nespresso could help you save hundreds of dollars per year on your coffee spending. The average American spends almost over $1,000 per year on coffee. That is just over $3 a day.
Sure, you will need to invest upfront in buying the coffee machine and then the pods. However, even after all of that, a Nespresso is a great option for someone trying to spend less by making coffee at home. But the benefits don't end with the savings! There are many other reasons to consider one.
Top 3 Reasons To Buy A Nespresso Machine
Nespresso Machines Are Easy To Use vs Espresso Machines
Nespresso is very easy to use compared to manual coffee makers and espresso machines. It can take many people a long time to learn how to use a manual machine. But with Nespresso, it is as simple as inserting a pod and then just pressing a button.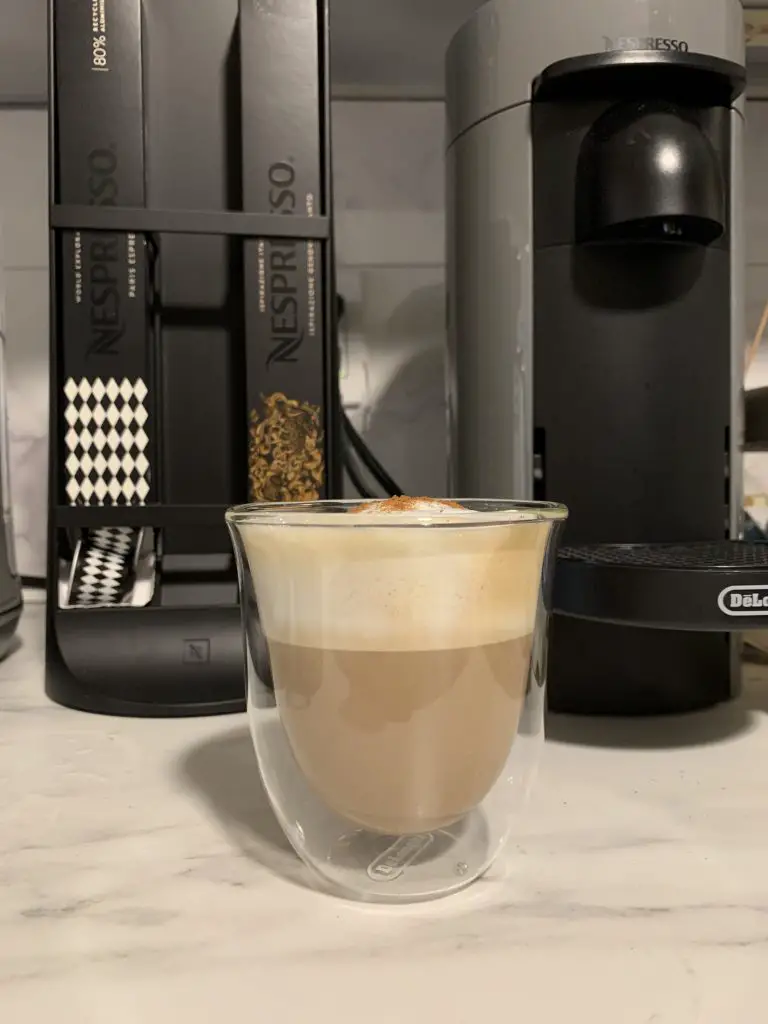 Nespresso Pods Offer A Ton of Flavor Variety To Choose From
There are more than 20 premium coffees from around the world available for each line, developed by Nespresso's master blenders. Within a range of caffeine levels and intensity levels, you'll be able to find pods that fit your tastes. While most pods do not have added flavors, there are a few flavored ones like vanilla, caramel and chocolate.
Nespresso Pods Use High Quality Coffee & Taste Great
With Nespresso, you'll get a high quality and great tasting coffee. The majority of Nespresso coffees are harvested by hand at just the right time for the best quality. After that, a multi-step process at different stages of production ensures that only the finest and cleanest coffee is used.
Two Reasons You May Not Want To Buy A Nespresso Machine
Nespresso Machines Do Require Some Cleaning & Maintenance
Nespresso machines do require cleaning. You should empty the used pod container and drip tray daily. You'll also need to descale your machine every 3 months or after using 300 capsules to remove mineral buildup. You'll need to buy a cleaning solution (less than $10 per use).
Some Nespresso Critics Warn About the Environmental Impact
While Nespresso machines are designed to minimize water and energy use, some people may also be concerned about the environmental impact of the discarded pods. However, the pods are made of aluminum so they can be recycled. You'll need to bring the pods to a Nespresso store to recycle them or mail them for free using a special recycling program bag from Nespresso.
If the environmental impact is a concern for you, then you may be interested to know that Nespresso has trying to shift away from aluminum. As of Spring 2023, Nespresso is piloting paper-based capsules in France and Switzerland. It is still to be determined if and when these will launch in other countries.
The Cost of Nespresso Machines
You may be surprised to learn that these coffee machines come in a range of prices, starting at around $150. There are models available between $150 and $300, plus a few premium ones too. Sales happen throughout the year.
Before we get into the cost, it's important to explain the difference between the two Nespresso product lines. The line that is right for you will depend on the type of coffee you like to drink.
The Original line brews only espresso pods. Espresso is a highly concentrated coffee that is typically served in small shots. Espresso pours are also used to make milk-based single serve coffee drinks like lattes, cappuccinos, americanos and flat whites. As you may have assumed from the name, espresso is really what Nespresso is known for. Other pod coffee makers like Keurig can't make it.
However, a Nespresso Vertuoline machine can make a wider range of beverages beyond just espresso. While there are a few single and double espresso pods to choose from, Vertuo models can also make an 8 ounce cup of regular American coffee.
Original Line Espresso Makers For Espresso
All Original line machines brew with a 19 bar pump pressure system. This makes a barista-quality espresso each time with just the push of a button. The key differences across the models has to due with milk-frothing features and machine size. Below are some of my top picks from the Original line.
MSRP $649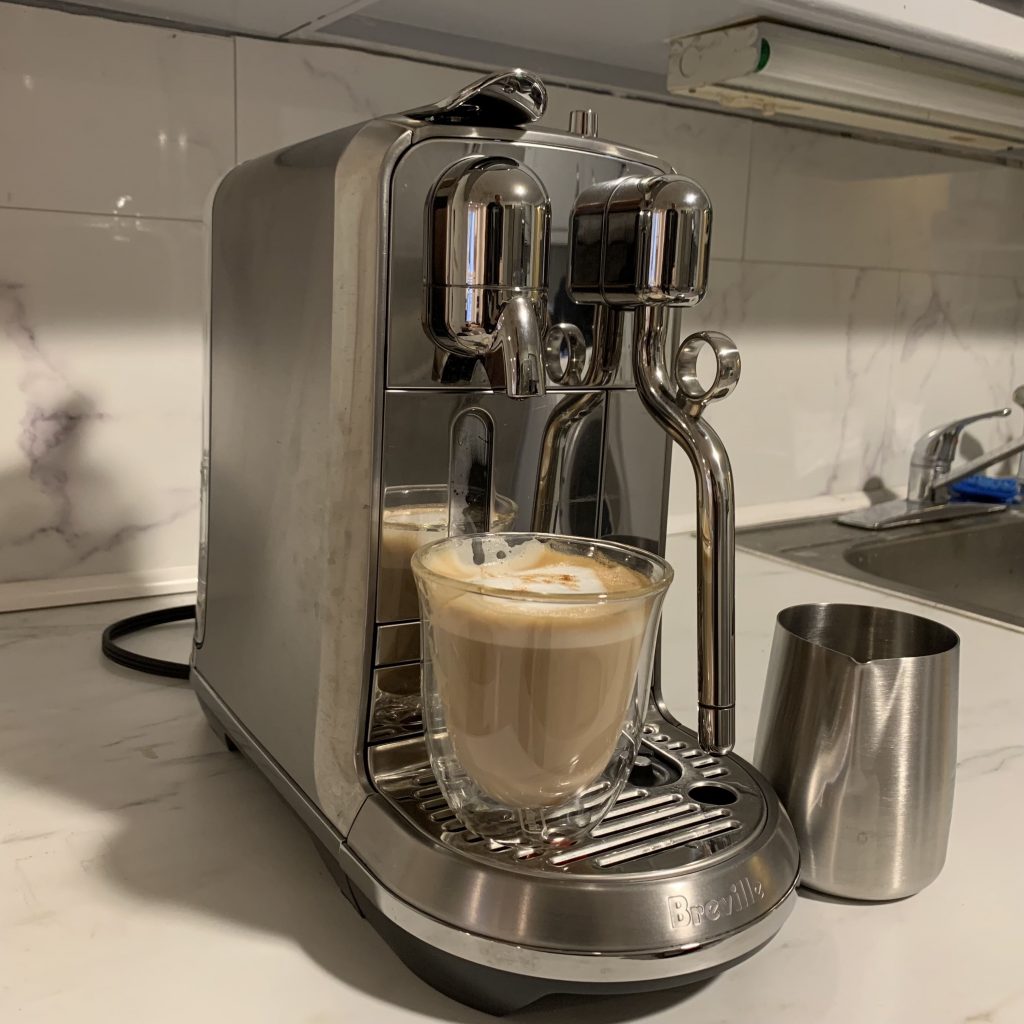 The Creatista Plus can make cappuccinos, lattes, latte macchiatos and flat whites, in addition to a simple espresso, ristretto or lungo. It has a steam pipe and comes with a stainless steel milk jug to easily froth milk. The milk temperatures and froth level settings are all customizable so you can create your own latte art! Check out my in-depth review of the Creatista Plus.
MSRP $649
The Latissima Pro has a sleek, stainless steel design. Similar to the Creatista plus, the Latissima Pro makes it really quick and easy to make a milk-based drink with just one touch. You can use it to prepare a ristretto, an espresso, a lungo, a cappuccino, a latte macchiato, warm milk froth or hot water for tea.
It also has a large milk container so you can make a larger drink or multiple beverages more easily.
MSRP $399
In addition to an espresso or lungo, the Latissima One can make two milky espresso drinks. Just press the button and you can enjoy a cappuccino or a latte macchiato. It is compact with a modern look. The single-serve milk jug is dishwasher safe for easy cleanup.
MSRP $149
The Essenza Mini is the most compact model available. It can make a 1.35 oz espresso or a 5 oz lungo. Both the water tank and capsule drawer have less capacity than other models, so the Essenza mini will require more frequent clean up. See my related post for an in-depth review of the Essenza Mini.
MSRP $279-$329
Like the Essenza Mini, the CitiZ can make an espresso or a lungo. It heats up in 25 seconds. You can buy it with or without the milk frother. If you want to make cappuccinos or lattes, go for the bundle with milk frother. If not, stick with the basic CitiZ.
Vertuo Line Machines for Coffee and Espresso Drinks
All Vertuo machines brew a variety of cup sizes: 1.35 oz espresso, 2.7 oz double espresso, 5 oz gran lungo and 8 oz coffee. If you buy the Vertuo Next or new Vertuo Creatista, you can also choose from two exclusive coffee pod sizes that only work with those models. There are new Alto 12 oz coffee pods and 18 oz pour-over style carafe pods.
Unlike the Original line, the Vertuoline uses barcodes on the pods to customize the brewing process for the perfect cup of coffee. Instead of using a high pressure system to brew, the Vertuoline uses a new centrifusion technology. The only model that has built-in milk frothing is the new Vertuo Creatista. None of the other Vertuoline models have milk-frothing, but you can purchase an accessory.
MSRP $199
The Vertuo Plus features a water tank that moves so you can optimize your kitchen countertop space. It has a motorized open and close and will auto eject the used pod into the capsule drawer. This is the Vertuo machine I have and use every day. It has been very reliable and easy to use.
MSRP $219
This is the original Vertuo model, released in 2014. It has a slightly smaller footprint than the Vertuo Plus, but the water tank does not move. Read my full review of how the Vertuo and Vertuo Plus compare.
MSRP $209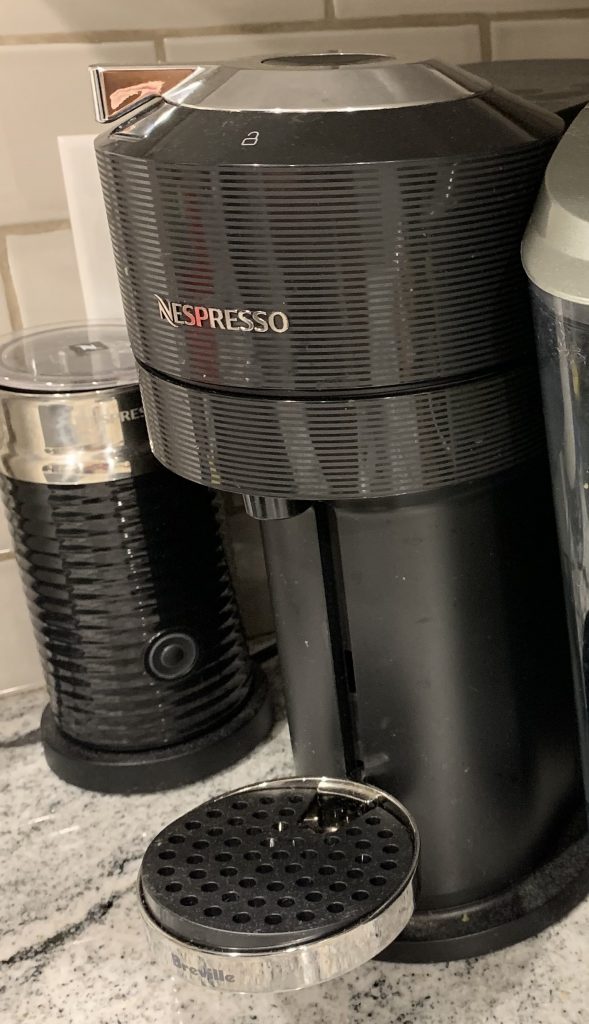 The Vertuo Next is the most compact model available in the US. In addition to the four sizes that all Vertuo models can brew, the Next also has the ability to brew an 18 oz of pour over coffee and 12 oz Alto extra large coffee pods. The Vertuo Next also has Bluetooth. It's made from 54% recycled plastic. Even though this is the newest Vertuo model, it has a reputation of not being the most reliable. You are likely going to be better off considering the Vertuo, Vertuo Plus or even the Evoluo if you can find it.
MSRP $749
The Vertuo Creatista is the newest Vertuoline model to be sold in the United States. The significantly higher price point is driven by the built in milk-frothing capability and the pre-programmed milk-based drink options. With just the press of a button you can make a milky cappuccino, latte, latte macchiato or flat white. Previously, this feature was only available in the Original line Creatista or Lattissima models. Since this is a new machine, not much is known yet about its reliability so it remains to be seen if it will have the same issues as the Vertuo Next. However, it does come with a two year warranty.
The Cost of Nespresso Capsules
Just like there are two types of machines, there are two types of pods. Vertuo coffee pods can only be used with the Vertuo line and Original pods can only be used with the Original line. That's because they have different shapes. There are a wide range of coffee pod flavors that you can enjoy trying for both lines. Unfortunately, Nespresso raised the pod prices a couple times over the last year or so.
Original line pods are sold in sleeves of 10 capsules. Most Original pods now cost $0.80. The Master Origins pods which feature unique coffee bean blends from different countries are now start at $0.85. The Barista Creations flavored pods and lungo pods now cost $0.85.
Vertuo line pods are more expensive than Original Nespresso pods and will vary by size. They are also only sold in sleeves of 10. After a couple recent price increases, the starting cost per pod as of March 2023 is now:
Coffee pods $1.25 each
Single Espresso pods $0.98 each
Double espresso pods $1.15 each
Gran lungo pods $1.15 each
Alto pods (Next or Creatista only): $1.50
Carafe pods (Next or Creatista only): $1.60
Depending on the specific variety you want, some pods may be a few cents more expensive. For example, the Boost coffee pods with more caffeine are $1.40 per pod instead of $1.25
Conclusion: Is Nespresso Worth It?
Compare your coffee spend to the average daily cost of using a Nespresso machine for one year. Assuming you make one cup of coffee a day, the average daily cost including the machine, the pods and any add-ins like milk and sugar will generally be between $1.75-$2.25 over the course of one year. Keep in mind your machine will last you more than a year, so your true cost per day will be less.
Nespresso coffee machines are high quality and backed by a warranty. With proper care, it should last for years which will further increase your savings. That's why we think Nespresso machines are worth buying. If you agree, then it is it time to dig into how the Nespresso models compare to find the best fit for you
get our latest guides, reviews, recipes and more for your coffee machine in your inbox
Thank you for subscribing. Check your email and confirm your subscription.
Something went wrong.