I may get commissions for purchases made through links in this post.
What Is Nespresso Expert Mode And How Do You Use It?
For coffee drinkers who love espresso-based drinks like lattes and cappuccinos, Nespresso's range of espresso pods for the Vertuoline may be disappointing. As of August 2023, there are only nine single espresso pods, six double espresso pods and six gran lungo pods. There are no ristretto pods at all! Compare that to more than 30 espresso pods for the Original line. Thats why Nespresso created Expert Mode for the newest Vertuo models. It basically makes it easier to concentrate just about any Vertuo pod – including 8 oz coffee pods – into smaller volumes for use in espresso-based recipes. Keep reading to learn more about how Nespresso Expert Mode works and how to use it.
What Is Nespresso Expert Mode?
"Expert Mode" allows you concentrate just about any pod for use in recipes that call for either espresso (single or double shot) or ristretto. For example, you'll want a single or double shot of espresso to make a Nespresso latte, a Nespresso cappuccino or an Americano. If you want to make a flat white, you'll want a ristretto shot which is even more concentrated.
Expert Mode is pre-programmed to concentrate certain pod sizes to specific volumes. Note that XL pods (carafe and alto) are not able to be used in Expert Mode.
| Pod Size | Expert Mode Volume |
| --- | --- |
| Single Espresso (1.35 oz) | 0.85 oz (ristretto) |
| Double Espresso (2.7 oz)( | 1.35 oz (single espresso) |
| Gran Lungo (5.1 oz) | 1.35 oz (single espresso) |
| Coffee Pods (7.8 oz) | 2.7 oz (double espresso) |
Which Nespresso Vertuo Machines Have Expert Mode?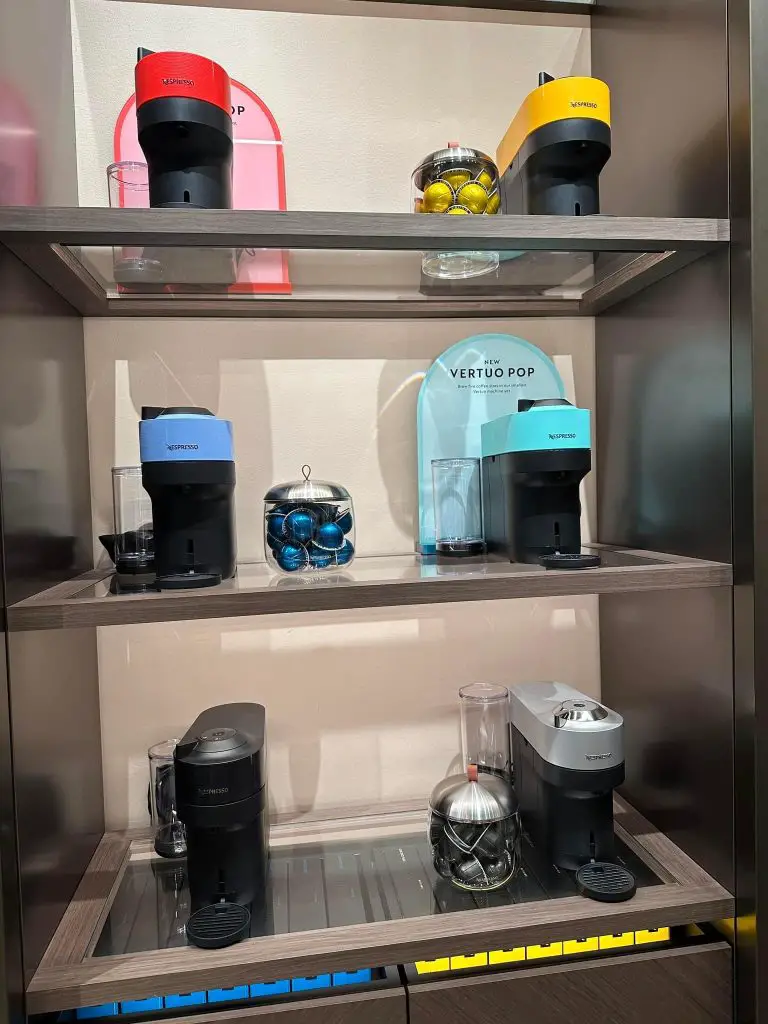 Only select Nespresso Vertuo machines have Expert Mode. If you have the Vertuo Next, Vertuo Pop or Vertuo Creatista you'll be able to use Expert Mode. However, you may need to update your coffee maker first. To do so, you'll need to connect your coffee maker to your phone using bluetooth and the Nespresso app. Follow these steps:
Once you've downloaded the app, make sure Bluetooth and Wi-Fi on your device is turned on. Place the phone on top of your brewer.
Open the app, click the machine icon in the top right corner. Follow the next steps.
When it prompts you to select a Wi-Fi network, choose your network and enter your Wi-Fi password.
Hit connect and then OK once the connection is made. The machine should say "Connected."
How Do I Use Nespresso Expert Mode?
Once you have updated your coffee maker, using Expert Mode is easy. Simply put in your desired pod and press the coffee button twice within one second. The machine will start brewing and the coffee button light should blink turquoise blue. Remember to use the type of pod for the specific volume you want – a single espresso pod for a ristretto, a coffee pod for a double espresso and either a double espresso or gran lungo pod for a single espresso.
Unlike programming a custom pod brewing size, Expert Mode has to be enabled each time you want to use it. For example, you could program any Vertuo machine to always brew a coffee pod to only 2.7 oz. Once you do it, every time you brew any coffee pod, it will brew only 2.7 oz. With Expert Mode, you have to press the button twice any time you want to change the volume, otherwise it will brew the regular amount for that pod.
What Are The Disadvantages of Nespresso Expert Mode?
Larger Vertuo pods are generally more expensive than smaller ones. As of August 2023, 8 oz coffee pods start at about USD $1.25 compared to $0.98 for single espresso and $1.15 for either double espresso or gran lungo pods. Since you should only brew a Nespresso pod once, it means if you choose to use Expert Mode to concentrate a larger pod into a smaller volume that you'll pay more compared to just using a pod designed to be that size. For example, concentrating a coffee pod to use in a single espresso cappuccino would cost you 27 cents more than just using a regular single espresso pod ($1.25 – $0.98).
get our latest guides, reviews, recipes and more for your coffee machine in your inbox
Thank you for subscribing. Check your email and confirm your subscription.
Something went wrong.