I may get commissions for purchases made through links in this post.
The Best Way How To Make Latte With Nespresso (Hot or Iced)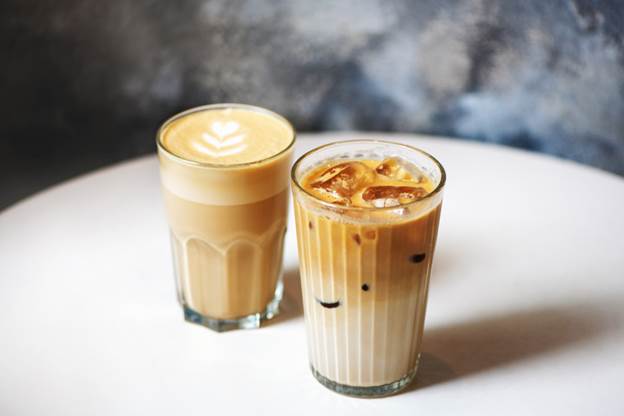 Lattes are milky coffee drinks you can make with a single or double shot of espresso and about twice as much milk. Compared to using a regular espresso machine, making a Nespresso latte is a breeze. I'll explain everything you need to know about how to make latte with Nespresso Vertuo or Original machines.
What Is A Nespresso Latte?
A latte is two parts espresso combined with three parts milk. The result is a rich and decadent drink. Flavored syrup or even whipped cream is sometimes added to sweeten the drink. Nespresso lattes can be enjoyed hot or cold.
Two Types of Nespresso Lattes: Caffe Latte And Latte Macchiato
You can make two kinds of lattes with your Nespresso. A caffe latte will have a more balanced taste, while a macchiato will be more espresso forward. What kind of latte do you prefer to drink? While both are only made with milk and espresso, the difference arises from the preparation. In a caffe latte, the espresso is made first and then the steamed milk is added to it. The milk is heavier than the espresso so they blend evenly in your cup.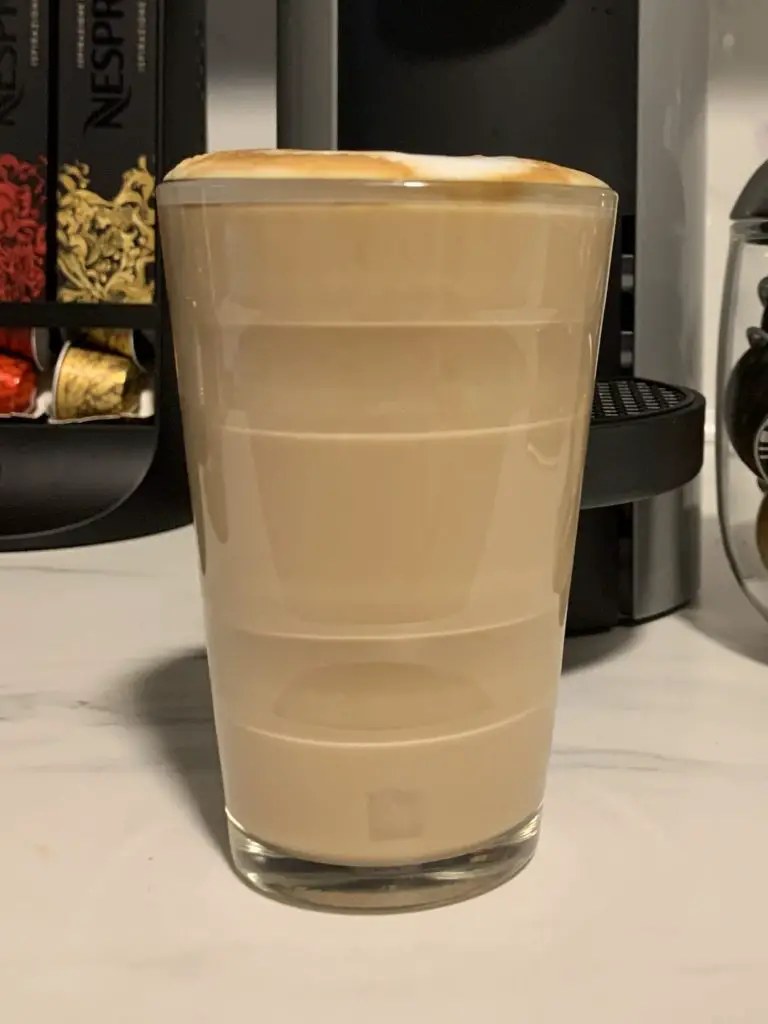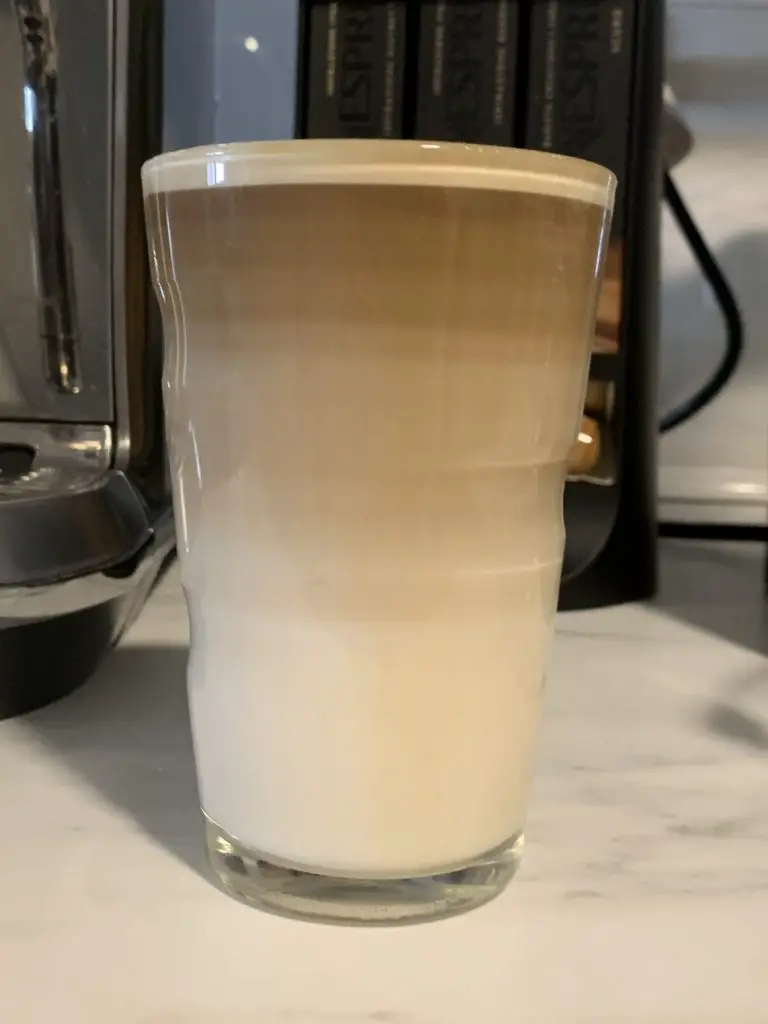 With a macchiato, the steamed milk is made first and then the espresso is brewed into it. The espresso blends into the milk more slowly, working its way down from the top. That is why it has a stronger espresso taste. In the photo you can see that the bottom of the glass looks milkier while the top has more espresso.
What Milk To Use In A Nespresso Latte?
If you drink dairy, whole milk at refrigerator temperature works best for making a latte and cappuccino. It has the level of lactic sugar, protein and fat for steaming and frothing. The result is just the right level of creaminess and amount of foam for latte art. If you don't like whole milk, use 2% reduced fat instead of skim if you are OK with a few more calories. Skim just can't yield the taste or texture most people expect since it has no fat.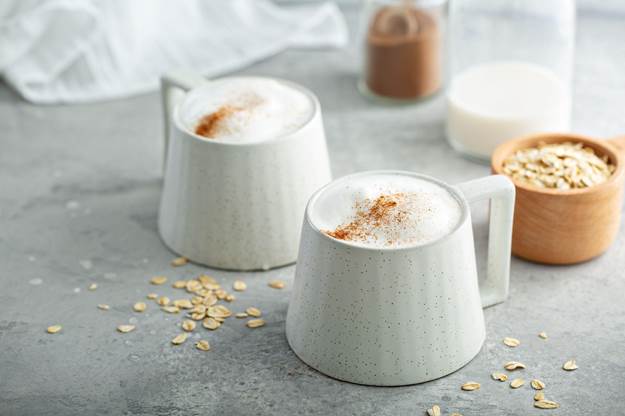 For people who prefer to drink plant-based milk, the best options are almond, oat or soy milk. All of these will steam well and create the right foam. Those labeled as a "barista version" from brands like Oatly, Califia Farms and Pacific Foods work very well. Other types of non-dairy milks like cashew or coconut milk won't make a foam that is as dense as the others.
How to Make Latte With Nespresso Machines That Don't Have a Frother
To make a hot latte, you will need to be able to steam milk. Most Nespresso Vertuoline machines and basic Original line models like the Essenza, Pixie, CitiZ and Inissia do not have a built in milk frother. You will need an accessory, like the Aeroccino 3 or 4.
Once you get your Aeroccino, you'll need to learn how to use it properly to make a latte. The coil is often what confuses people. You'll want to make sure to remove the coil from the whisk before heating the milk. This will steam the milk and create less froth. You only leave the coil on when you want to froth milk for a cappuccino.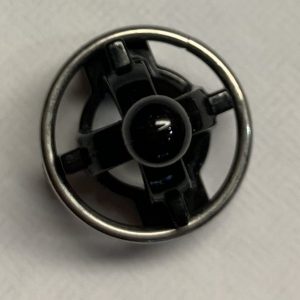 To make a Nespresso latte:
Brew an espresso pod below into a glass
Steam your milk and pour it into the cup that has the brewed espresso
To make a Nespresso latte macchiato:
Steam the milk first and pour it into your cup
Then brew the espresso directly into the milk
How To Make An Iced Latte With Nespresso
To make an iced latte, just use cold milk instead of the steamed milk. If you are using an Aeroccino, you can put the milk in the frother first (without the whisk!) and use the cold setting. You should add the ice after you have cooled down the espresso with cold milk. Less of it will melt this way. You can also use a HyperChiller. This accessory will cool your coffee quickly to prevent ice from watering down your drink. I use it almost every day and love it! My ice doesn't melt right away so my lattes taste great, not watered down.
How to Make Latte With Nespresso Creatista or Lattissima Models
If you sprung for a higher end Nespresso machine, then making a latte is even easier. That's because Creatista and Lattissima models have built in steam wands to heat milk. With just the press of a button or two, one of these advanced Nespresso machines can make you a delicious latte.
How To Choose Nespresso Pods for A Latte
Only single and double espresso pods can be used to make a Nespresso latte. Espresso capsules are brewed with less water compared to other pods, like lungo or regular coffee. With espresso pods, you'll get a more concentrated cup of coffee that is perfect for adding to milk.
Pods with a darker roast tend to work better for lattes. The stronger intensity can cut through the milk. However, if you prefer your espresso lighter, then medium or light roast pods can work too.Here are some of my top picks.
Vertuo Pods
If you are seeking a latte with more caffeine, Diavolitto should be your pick. It packs 150 mg of caffeine per pod, which is more than other Vertuo line espressos. Diavolitto the most intense and powerful espresso Vertuo pod. It has a smooth and creamy texture with oak wood and leather notes.
Altissio is a good choice for you if you like a latte with a strong taste. It is a full-bodied and creamy. Altissio features a thick crema and a bold taste with cereal flavor notes.
If you are looking for a light and sweet espresso, then Voltesso is a great choice. Voltesso is a light roast and mild. It has a balanced and round profile with a distinctly sweet aroma and biscuit notes. The milk will make this pod even smoother than it is when drinking it black.
Scuro is a double espresso that is dark and bold. It has a dark and smoky profile because it is a highly roasted blend of coffee beans from South America. When brewed, you'll notice aromatic notes of cocoa and vanilla. When you use Scuro in a latte, the milk makes those cocoa notes get even stronger.
There is a Nespresso Vertuo pod specifically made for an iced latte. Iced Leggero is a light-roast double espresso with delicate notes of fruit and cereal. It is ground to create a delicate, cooling sensation.
Original Pods
Firenze is dense with bold roasted and cocoa notes from its mix of Costa Rican and Brazilian beans. You'll get a nice crema atop the espresso, so it has a creamy and velvety texture.
Ristretto Italiano is a strong and powerful espresso inspired by Italy's coffee culture. It has a mix of South American and East African beans. As a result, you will taste a mix of fruity notes and a hint of acidity as you sip this blend.
Genova has a caramelized, toasted cereal aroma that will remind you of freshly roasted coffee beans. It is a mix of beans from Brazil, Central America and South America. This blend produces the delicate aroma and rounded mouthfeel that is representative of coffee from Northern Italy.
Volluto is delightfully sweet and smooth. It combines rich flavors with a round body. The lightly-roasted coffee beans from South America give this espresso sweet biscuit and fresh, fruity aromatic notes.
Freddo Intenso is a dark roast made for a delicious iced experience. It has toasted notes of cereal and wood. It is a mix of Arabica beans from South America and Indonesia.
Freddo Delicato is a sweet and mild light-roast made to be brewed over ice. It is made from Kenyan coffee beans that give it a sweet and fruity flavor.
Nespresso Latte Recipes
With so many different flavored syrups out there, there's no shortage of Nespresso latte recipes (hot or iced). Here are some of my favorite ones. You can use any Nespresso capsule shown above to make any latte recipe below.
How to Make a Nespresso Vanilla Latte
Pour one ounce of vanilla syrup into a glass that is 12 oz or larger.

Brew the espresso capsule directly into the glass.

Prepare 6 ounces of milk and pour the milk into the glass.
Top with whipped cream (optional)
How to Make a Pumpkin Spice Latte
Grab a 12 oz glass or larger. Place 1 oz of pumpkin spice syrup into the bottom of the glass.

Brew a double espresso pod or two single espresso pods directly into the glass.

Prepare 6 oz of milk, then add to glass and stir.
How To Make An Eggnog Latte
Grab a 12 oz glass or larger.

Brew a double espresso pod or two single espresso pods directly into the glass.

Add eggnog and milk to your frother in roughly equal amounts and stir together. Heat the mixture.
Slowly pour the mixture into the glass with the espresso shots.
Top with a sprinkle of cinnamon.
get our latest guides, reviews, recipes and more for your coffee machine in your inbox
Thank you for subscribing. Check your email and confirm your subscription.
Something went wrong.