I may get commissions for purchases made through links in this post.
What Is A Nespresso Pour Over Coffee Pod & How Do You Use It?
Pour-over style pods made by Nespresso brew an 18 ounce carafe of coffee. They are compatible only with only one Vertuoline machine. Keep reading to learn more about what a Nespresso pour-over style pod is and how to use it.
What Is Nespresso Pour Over Coffee?
A traditional pour over coffee is made by slowly pouring water over coffee grinds for several minutes. The water flows through the grinds into a carafe that is shaped like an hour glass. Compared to a regular coffee, a pour over style coffee tends to be more flavorful.
The Nespresso carafe pods try to replicate this pour over style coffee by slow brewing the pod. The brewing process can take as long as three to four minutes. This is because the Next will spin the carafe pods more slowly than it does other pod sizes. The Nespresso Vertuo Next carafe pods make 18 oz of coffee. This is great if you need to share with family or friends.
There are currently two carafe pods available on Nespresso.com. There is the regular pour-over style pod and the mild version. The regular has a bold and smoky taste profile, whereas the mild is more balanced.
How To Use Nespresso Pour Over Carafe Pods?
In order to use the Nespresso pour-over style carafe pods, you will need a Vertuo Next. These carafe pods are not compatible with other Nespresso models. You may also want to consider getting the carafe accessory from Nespresso. It was designed to help enhance the flavor of the pour-over style coffee pods. It can help maintain the temperature too.
To use a pour-over pod with the carafe, first remove the drip tray so you can fit the carafe under the coffee outlet. Make sure your water tank is full, insert the carafe pod and hit the button the begin brewing. After a few minutes, the brewing will complete. Use the long spoon that came with the carafe to stir the coffee and mix in the thin crema on top.
Why Is My Nespresso Pour-Over Carafe Pod Not Working?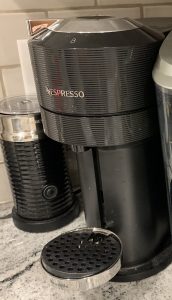 Nespresso Vertuo machines use barcodes on the underside of the pod to recognize the pod size and use the correct amount of water to brew. As mentioned above, the Nespresso Pour Over Carafe style pods only work with the Vertuo Next model. If you have a different Vertuoline model – like the Vertuo Plus, Vertuo or Evoluo – you won't be able to use the carafe pods because they won't recognize the barcode.
Nespresso Vertuo Next vs Other Vertuoline Models
Is it worth it to get a Vertuo Next in order to be able to brew pour over style carafe pods? I don't think so. Compared to the other Vertuoline models, the Vertuo Next is the least reliable. There are serious technical flaws with this model. As a result, owners have more issues with the Next than any other Nespresso model. These issues include coffee or water leaks from the machine, coffee that tastes like plastic, or a range of orange blinking light problem indicators that Nespresso Customer Support can't even help users fix. There's even a mysterious purple light that isn't mentioned in the user manual but usually appears a couple days before the machine dies.
For those who are fortunate enough to have issues while their Next is still under its one year warranty, Nespresso has been replacing them. Usually they send another Next, but many people report having been successful in begging Customer Support to send them a Vertuo or Evoluo instead. If you buy a Next, be sure to register it with Nespresso ASAP so that any issues will be covered under your one year warranty.
get our latest guides, reviews, recipes and more for your coffee machine in your inbox
Thank you for subscribing. Check your email and confirm your subscription.
Something went wrong.