I may get commissions for purchases made through links in this post.
Can You Make Regular Coffee In A Nespresso?
Nespresso machines are known for making it easy to prepare espresso. However, some newer models can also make regular coffee. Knowing which ones can make both coffee and espresso and which ones can only make espresso is really important so that you are not unhappy with your purchase. Keep reading to learn more and see which Nespresso model I recommended most for coffee drinkers.
If you are also considering a Keurig, be sure to check out my related content on Keurig vs Nespresso.
Understanding Nespresso Original vs Vertuo Line
One of the first things you might notice as you are doing research on Nespresso machines is that there are two different types. There is the Original line and the newer Vertuo line. The most important factor when deciding between a Vertuo vs Original model is the type of coffee you like drink.
Original Line
The Original line models brew only espresso pods. Espresso is a highly concentrated coffee served in small shots. Espresso is the only type of coffee that can be used to make drinks like lattes, macchiatos, cappuccinos and flat whites. If you want to be able to make these at home, you need to be able to brew espresso.
Vertuo Line
In contrast, the Vertuoline can make both espresso and regular coffee. There are five different Nespresso Vertuo pod sizes that you can buy, including single and double espressos plus 7.77 oz coffees. Pick a Vertuoline model if your only morning drink is a regular coffee or if you enjoy both coffee and espresso-based drinks.
Which Nespresso Machines Can Make Regular Coffee?
If only the Vertuoline can make regular coffee, then you have four machines to choose from:
Vertuo Next
Vertuo Plus
Evoluo
Vertuo
As long as you stay away from the Next, you can't really go wrong. I personally have the Vertuo Plus and think that is the best Nespresso machine for making coffee and espresso. Here is some info on each. You can also check my detailed review on how the top 3 Vertuo models compare.
Vertuo Next
Many people assume that the Next must be the best Vertuo coffee maker since it is the newest model. They would be very wrong. While the Vertuo Next has some unique features such as the ability to make 18 oz pour over coffee and bluetooth, there are serious flaws with this model. As a result, owners have more issues with the Next than any other Vertuo model. These include coffee or water leaks, coffee that tastes like plastic, or a range of orange blinking light errors that Customer Support can't even help users fix. While it is covered under a one year warranty, I would strongly suggest you just get another model from the start and avoid the headache. You can read my detailed description on how the Next compares to the Vertuo Plus or how it compares to the Vertuo.
Vertuo Plus
The Vertuo Plus features a water tank with adjustable placement so you can optimize your kitchen counter space. It has a motorized lid with a lever which makes it effortless to open and close. Opening will also auto eject the used pod into the capsule drawer.
There are actually two versions of the Vertuo Plus. In addition to the regular one, there is the Vertuo Plus Deluxe. This is great choice if you want a coffee maker that has it all: chrome accents, faster startup speed, less frequent upkeep, and an movable water tank.
| | | |
| --- | --- | --- |
| | Vertuo Plus Deluxe | Vertuo Plus |
| Water Tank Capacity | 60 ounces | 40 ounces |
| Used Capsule Container Capacity | 13 large capsules | 10 large capsules |
| Heat Up Time | 15 seconds | 20 seconds |
Vertuo
The Vertuo is one of the fastest Vertuoline model. It heats up in just 15 seconds, like the Vertuo Plus Deluxe. It holds more used capsules than the Plus model. However, it is a little harder to open and close since it has a lid with a lock that needs to be turned. If you want to learn more, see my post on how the Vertuo compares to the Vertuo Plus.
Evoluo
The Evoluo has the largest water tank and used capsule container of any Vertuo line. That makes it a great choice for people who want to spend less time cleaning. It also has more heating power than the Vertuo Plus. Like the Vertuo, it is a bit harder to open and close because it has the lid with a lock that needs to be turned. If you want to learn more, see my post on how the Evoluo compares to other Vertuo models.
What Size Regular Coffee Can Nespresso Vertuo Machines Make?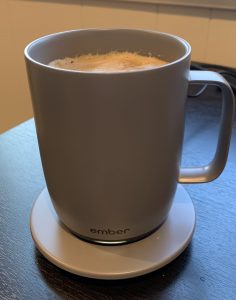 For coffee drinkers, there are 7.77 oz Vertuo coffee pods. If you want a larger coffee, then for now you will have to brew two pods. Never brew the same pod twice as it will make your coffee taste bitter and bad. Rumor has it that there will also likely be some new 14 oz XL Vertuo coffee pods at some point this year. The original XL pods were discontinued at the end of 2021.
What Are The Best Nespresso Regular Coffee Pods?
There are flavored coffee pods as well as unflavored ones. Most of these capsules will have somewhere between 130 mg and 200 mg of caffeine. However, the company recently launched two coffee pods with boosted levels of caffeine in the Melozio and Stormio pods.
Unflavored Regular Coffee Vertuo Pods
Popular Vertuo pods for an unflavored 7.77 oz coffee are:
Flavored Regular Coffee Nespresso Vertuo Pods
The flavored, medium-roast Barista Creations coffee capsules are very popular Vertuo coffee pods. If they all sound good to you, then check out the variety pack on Amazon. I find that the taste of the flavors is pretty mild. If you are looking for a sweet coffee, you'll need to use some syrups to add flavor here.
Caramel Cookie is a barista creations coffee with a caramel flavor. Buttery biscuit aromatic notes pair with caramel flavor.
Hazelino Muffin is a coffee with a hazelnut flavor that is smooth and velvety with a hint of sweetness. Notes of biscuit and almond and hazelnut flavor.
Vanilla Custard Pie has a delicious and creamy vanilla flavor along with subtle almond and buttery biscuit aromatic notes.
On Nespresso.com, you'll find another Barista Creation pod called Chocolate Fudge. It is a very polarizing pod based on what I've seen in social media discussion groups. Some refer to it as "disgusting" or "gross." People that like it tend to use syrups or creamers to alter the taste. It is probably best to try to get a sample of it first and see if you like it.
get our latest guides, reviews, recipes and more for your coffee machine in your inbox
Thank you for subscribing. Check your email and confirm your subscription.
Something went wrong.