I may get commissions for purchases made through links in this post.
Nespresso vs Keurig: What You Need To Know Before Buying (2023)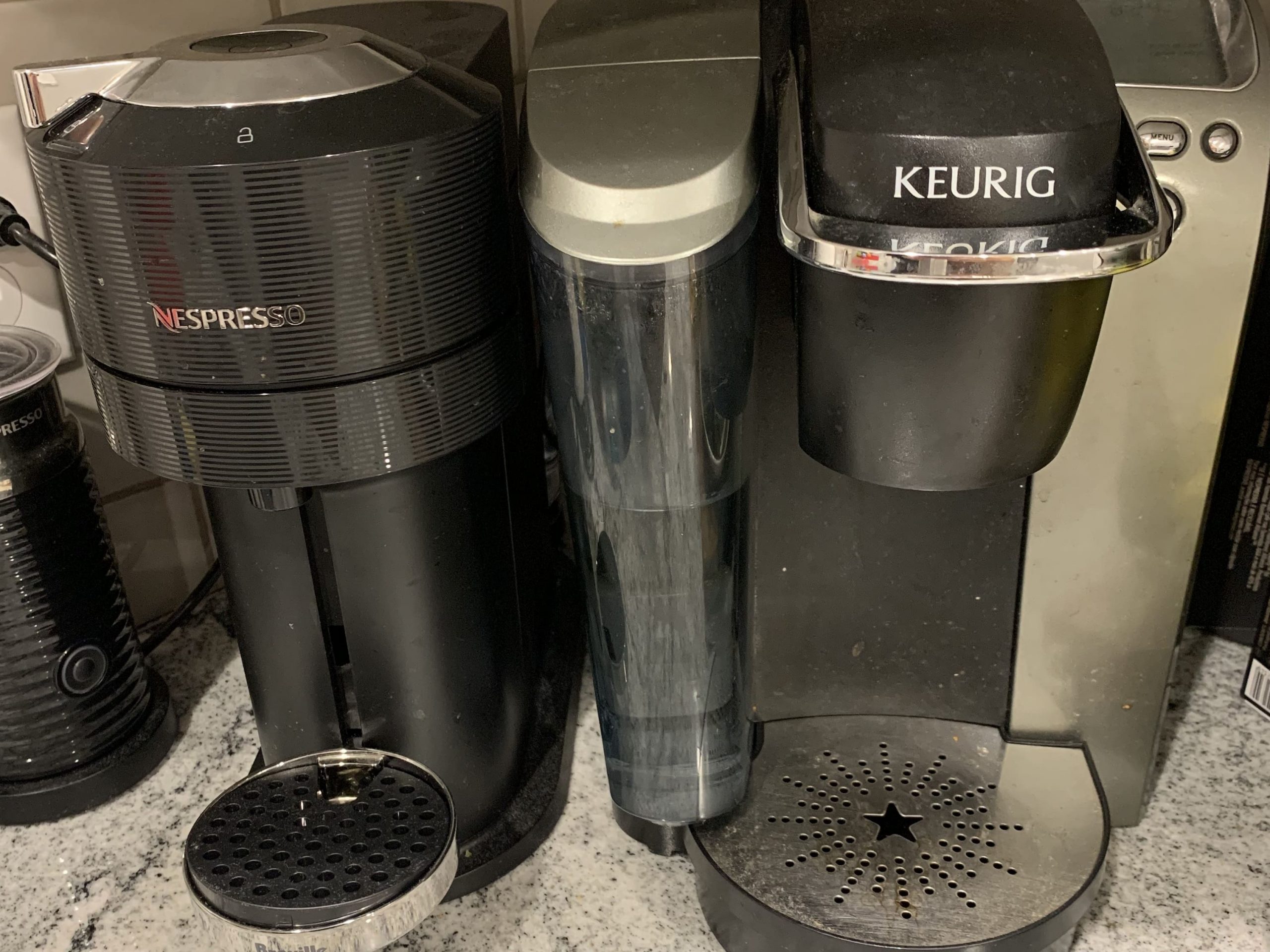 In the US, there are two brands of single serve coffee machines you can choose between: Nespresso vs Keurig. If you want to start saving money by making more coffee at home and you want a way to do that easily, I know that one of these brands will be perfect for you. However, to decide which one is better for you, you need to know the key differences between them.
The #1 Question When Deciding Nespresso vs Keurig: How Do You Like Your Coffee?
This is the most important question you need to answer as you are shopping for a Nespresso vs a Keurig. That's because Nespresso and Keurig make different types of coffee. This is the key difference to know to make sure you are not upset with your brewer.

A Regular Cup Of Coffee (Hot or Iced)
When you go to a coffee shop, do you order a "medium coffee" a " french vanilla coffee" or an "iced coffee"? If so, you'll be able to make all of those with a Keurig. Keurigs are really easy to use, but they can only make a regular American cup of coffee. There are both flavored and unflavored pods. You can brew in a range of single cup sizes with most models, from 6 oz to 12 oz. Keurig brewers CANNOT make espresso.
Espresso, Lattes, Cappuccinos, etc.
On the other hand, there are some Nespresso machines (known as the "Original Line") that can only make espresso. Espresso is a concentrated coffee brewed under high pressure and typically served in small shots. The standard size is 1.35 oz. Original Nespresso models can also prepare a 3.7 oz lungo. Espresso is the only type of coffee that can be used to make an americano and certain drinks with milk. If your favorite drink is a cappuccino, latte (pumpkin spice or otherwise), macchiato, or flat white, then you will need an original Nespresso model with its 19-bar pressure brewing system. You'll need a milk frother to make these drinks too.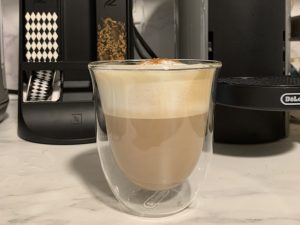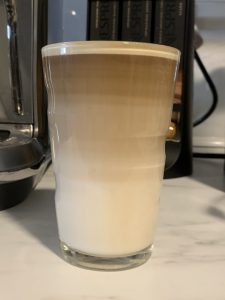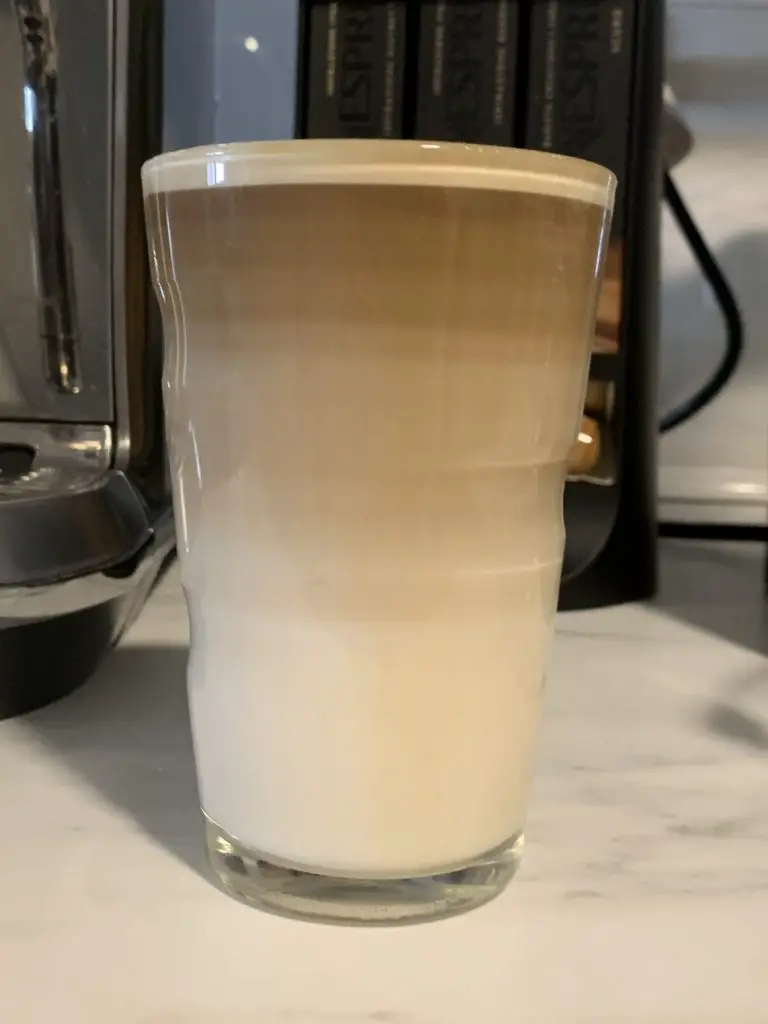 Both Regular Coffee & Espresso Drinks
What if you like both regular American coffee and an espresso-based drink every now and then? Do you need to get both Nespresso and Keurig? Nope! That's where Nespresso's new product line comes in. Powered by centrifusion technology and a pod barcode reader, the Vertuoline is easy to use to brew both espresso pods and 8 oz coffee pods. You'll want a milk frother too.
Don't be fooled by Keurig "espresso roast" pods or Keurig machines like the K-Latte or the Keurig K-Cafe. Keurig machines cannot make espresso to use in lattes because they don't use a high pressure brewing method. The best Keurig can do is to try to replicate the taste of espresso. With Nespresso, you get the real thing.
Nespresso vs Keurig Machine Price
Advantage for coffee drinkers: Keurig
Advantage for espresso drinkers: Nespresso Vertuo
Keurig coffee makers are more affordable vs Nespresso machines. You can usually find a basic, no frills model like the K-Mini or K-Express for around $80. If you want a more advanced one, you can get one for $100 to $200.
Nespresso Vertuo machines that brew both coffee and espresso are a bit more expensive vs Keurig. The retail price for Vertuo models is around $180 to $210, though you can sometimes find some models on sale for as low as $130.
There is a much bigger range in price for Nespresso Original espresso machines. That's because there are some higher end models that have more advanced features. These include built-in milk frothing and usually an extra year of warranty coverage. These high-end machines, like the Creatista or Lattissima models, can sell for $400 to $600. However, there are are a few more affordable Original models with basic functionality you need to just brew a high quality espresso. This includes the Essenza Mini and the Pixie. You can probably find one between $150 and $200.
Nespresso vs Keurig Coffee Selection
Advantage for coffee drinkers: Keurig
Advantage for espresso drinkers: Nespresso Original
For coffee only drinkers, Keurig will have many more coffee pods to choose from. There are over 200 K-cups to try, including popular coffee brands like Starbucks, Dunkin' Donuts and The Original Donut Shop. Plus, you can get a lot of other non-coffee K-cups from Keurig, including tea and hot cocoa. There are no tea or cocoa pods for Nespresso, though you can use the machine to make hot water.
Your coffee options will be more limited with the Nespresso Vertuoline. Nespresso currently only makes 15 different Vertuo coffee pods. There are also a few made by Starbucks, the only official Nespresso partner. Because Nespresso holds a patent on the Vertuo pod design, you won't find pods from any other brands until around 2030.
If you prefer espresso drinks, you'll find more variety with Nespresso Original vs the Vertuo models. There are 38 different espresso pods for Original models. There is a wide range of both intensity levels and caffeine levels to pick from. Plus, you can find Original compatible Nespresso capsules from many other brands, including Starbucks, Peet's Coffee, Cafe Bustelo and more. There are only 14 espresso pods for Nespresso Vertuo.
Coffee Price
Advantage for coffee drinkers: Keurig
Advantage for espresso drinkers: Nespresso Vertuo
Keurig K-Cups can range quite a bit on price. You can usually find them for anywhere from 50 to 85 cents per cup pod. In comparison, Nespresso Vertuo coffee pods currently cost $1.10 each. Keurig even makes reusable pods that you can fill with your own coffee grinds for more savings.
As of January 2023, you can get a single serve espresso pod for the Nespresso Original line for as low as 80 cents. For the Vertuoline, there are double espresso pods for $1.15. If you tend to make larger espresso-based drinks, it is cheaper to use one Vertuo double espresso pod than two single Original pods.
No matter whether you buy a Keurig or Nespresso, you'll never want to use a Nespresso pod or K-cup more than once. If you do, you'll end up with coffee that tastes bitter or burnt.
Coffee Size
Advantage for coffee drinkers: Keurig
Advantage for espresso drinkers: Nespresso Vertuo
Most Keurig coffee makers can brew at least three different cup sizes. All machines can brew an 8 oz or 10 oz cup, usually along with either 6 oz or 12 oz. Some newer models can even brew 4 oz or 2 oz shots. They all use the same size K cup. All that changes is the amount of water used and the brew time. If you want to enjoy bigger cups of coffee every now and then, Keurig is a good choice for you.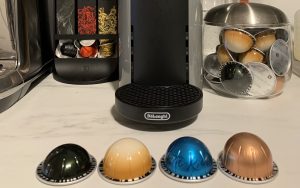 If you get a Nespresso Vertuo, there are 7.77 oz Vertuo coffee pods. If you want a larger coffee, then for now you will have to brew two pods. Never brew the same pod twice as it will make your coffee taste bitter and bad. Rumor has it that there will also likely be some new 14 oz XL Vertuo coffee pods at some point this year. The original XL pods were discontinued at the end of 2021. Unlike the Nespresso Original line, Vertuoline models also have double espresso pods in addition to the single ones.
Coffee Pod Availability
Advantage for coffee drinkers: Keurig
Advantage for espresso drinkers: Nespresso Original
You can find a wide selection of Keurig K-cups at your local grocery store, Walmart and Target. There are even more to choose from on Keurig.com and Amazon. Plus, you can get a My K-Cup reusable filter and use your favorite ground coffee.
To buy official Nespresso pods in store, you have to visit a boutique. Otherwise, you can shop online at Nespresso.com, Amazon, Bed Bath & Beyond and other retailers. You'll only find Starbucks Nespresso pods at your grocery store, Walmart and Target. There might also be some store brand version of Original capsules. There won't be any others for Vertuo.
Coffee Pod Allergens
Advantage: Nespresso
If you have any dietary restrictions, you'll like that Nespresso pods don't include lactose or other allergens. That's a big difference between Nespresso vs Keurig. Keurig says that some flavored coffee and other types of pods can contain a long list of artificial ingredients, like propylene glycol and caramel color.
Nespresso vs Keurig Environmental Impact
Advantage for coffee drinkers: Keurig
Advantage for espresso drinkers: Nespresso Original or Vertuo
Since the end of 2020, all Keurig K-cups are recyclable. Look for the recyclable label on the pod box. They are made of #5 plastic that is accepted in most (but not all) curbside recycling programs across North America (check your local guidelines). Peel off the lid and throw it away. Then empty the coffee grinds in the trash or compost and place the plastic Keurig pod in the recycling bin. Keurig is rolling out an easy-peel lid that will make this process really simple.
Nespresso pods are made of aluminum. Unless you live in New York City, you won't be able to put used Nespresso pods in your recycling bin. However, Nespresso does have its own recycling program. You can bring your used pods back to any boutique or send them to by mail. In the US, the company pays for this postage.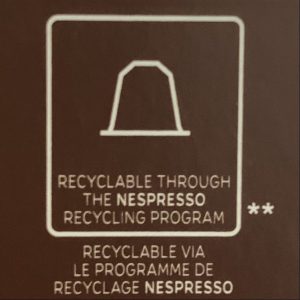 Nespresso vs Keurig Machine Maintenance
No brand advantage
Whether you get a Nespresso or a Keurig, regular cleaning is needed to keep it working at its best. For Nespresso, you'll want to run basic daily and weekly cleaning in addition to descaling every three months or so. Keurig machines will need regular needle cleaning plus water filter changes and descaling. Descaling removes mineral buildup that can impact your coffee taste and temperature.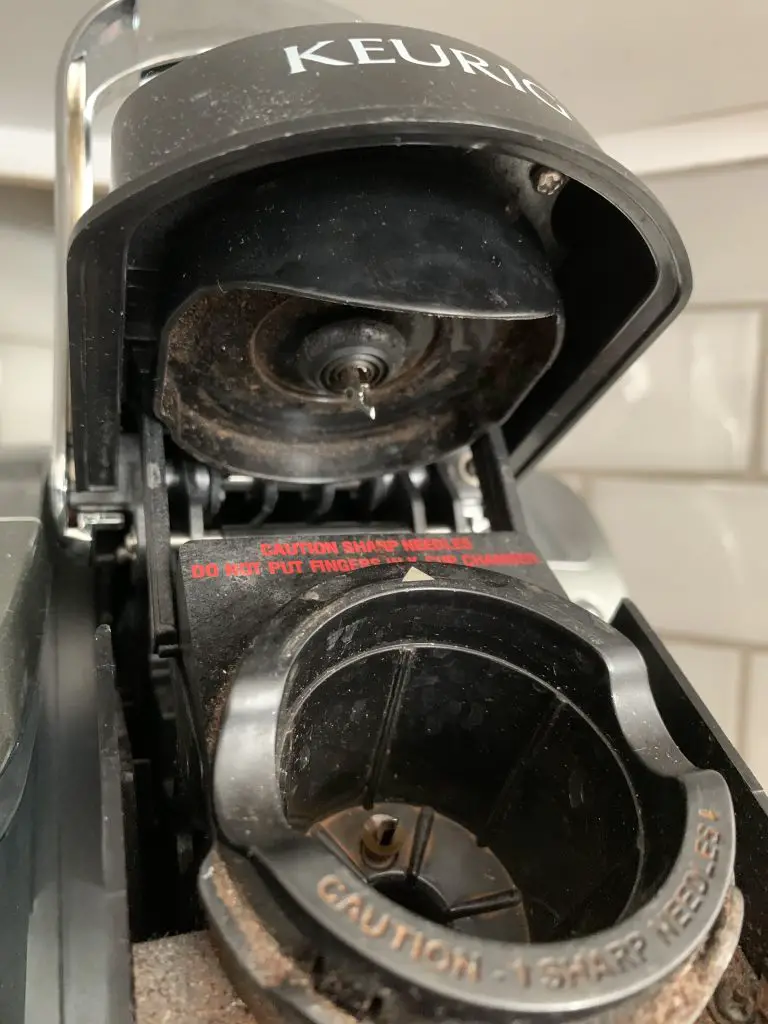 My Recommended Nespresso and Keurig Machines
With so many single serve coffee makers to choose from, how do you know which one is best for you? Here is what I would pick.
For Coffee Drinkers
We love our iced coffees here in the US. That's why I like one of the new Keurig machines that can make both hot and iced coffee. The best Keurig hot and iced coffee makers are the K-Supreme, the K-Elite and the K-Slim+ICED.
For Espresso Drinkers
My budget pick is the Essenza Mini. This is the most affordable Original machines on the market. It's small but brews a great espresso. Don't sweat over the Breville or De'Longhi model; the only difference is design. I would suggest getting it as part of a bundle with the Aeroccino milk frother if you want to make lattes and cappuccinos.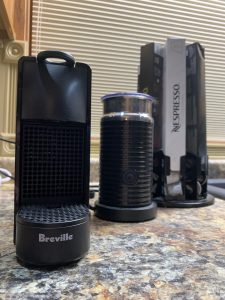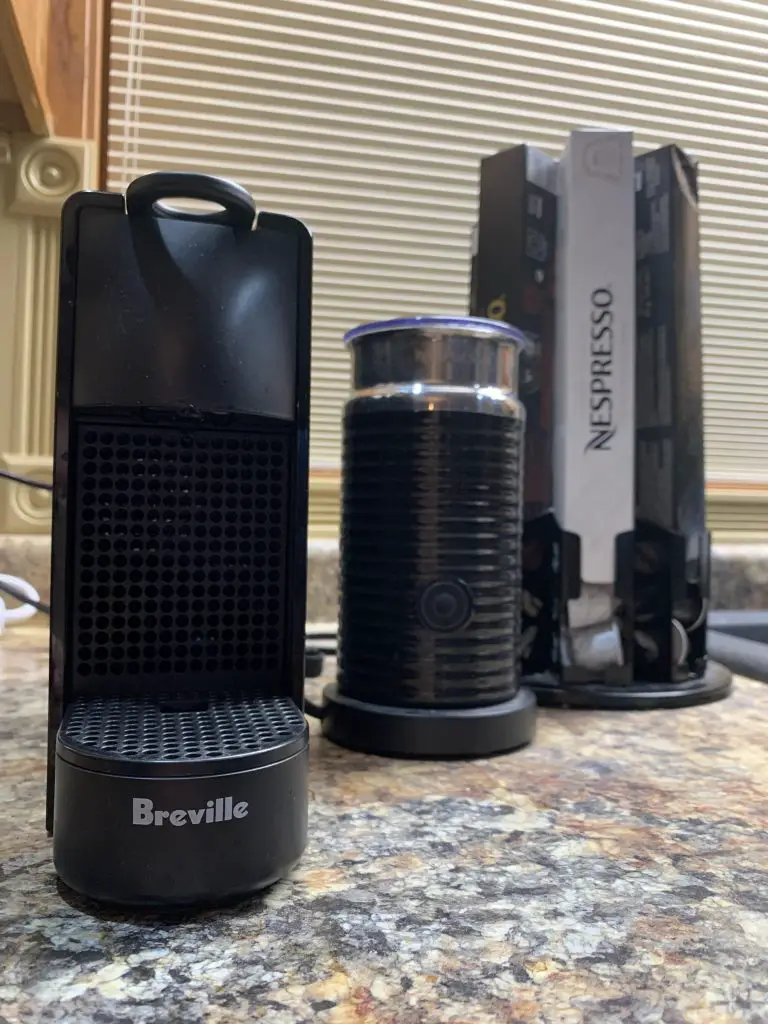 If you want to splurge on your coffee machine, get the Creatista Plus. This is what I use daily. It's perfect for barista wannabes like me who want to make milk-based drinks with the push of a button. The stainless steel design will also look great in your kitchen.
You can also see my detailed review of which Nespresso machines are best.
For Coffee & Espresso Drinkers
The best advice I can give you when shopping for a Nespresso Vertuoline is to stay away from the Vertuo Next! You might think it is the best one because it is the new and has the most features. While that may be true, a quick scan of Nespresso user groups on Reddit and Facebook will reveal that owners of the Next have A LOT of trouble.
Vertuo Next problems include leaks, machine errors, etc. Instead, you are better off getting the Vertuo or VertuoPlus or the Evoluo. I have the VertuoPlus, but they are all great and very similar. Get the one that has the best price. You can also see my detailed review of which Nespresso machines are best.
get our latest guides, reviews, recipes and more for your coffee machine in your inbox
Thank you for subscribing. Check your email and confirm your subscription.
Something went wrong.